By Kevin McGeever 
The drive down Interstate 95 from New York City to the Official Florida Welcome Center is, give or take, 900 miles. And you have done it. You have arrived in the Sunshine State and you are so close to your destination: Orlando, Theme Park Capital of the World.
The natural impulse would be to push on and get this Florida vacation started. 
After all, Disney and Universal and SeaWorld and International Drive -- which means a Star Wars universe, Harry Potter and Hogwarts, dolphin encounters in Discovery Cove, and all manner of roller coasters and thrill rides -- are no more than three hours away.
But just pause for a bit, stop at the Welcome Center, stretch your legs, and reach for that sunshine. And allow us to suggest some points of interest along I-95 and I-4 that are worth a side trip or an extra day's stay.
There are so many things to do in Florida between where you are and where you are going. Before you get to magical Orlando, consider:
- seafood lunch or dinner on the Atlantic Ocean in Fernandina Beach, the birthplace of the modern shrimping industry.
- a carriage ride through the colonial quarter of St. Augustine, America's oldest city, and a climb to the observation deck of the lighthouse.
- take your car onto Daytona Beach, as the original racers once did, and open your windows to sea sounds and salt breezes.
You can create your own travel itinerary for driving from NYC to Orlando with the VISIT FLORIDA planning tool, but here are some more thought starters on what you can appreciate on your road trip through Florida, and what to expect when you reach Orlando. 
ESSENTIALS
Distance from NYC to Orlando:  approximately 1,074 miles (1,728 kilometers)
Driving time: Two full days minimum
Best route(s): I-95 south to I-4 west
Fuel costs: use this calculator
Charging stations: plot your course on Plugshare
Rest areas: Interstate 95
Alternative transportation: Wanderu and Greyhound. Travel time: two days.
PLACES TO STOP ALONG THE WAY
Here are some Florida things to do from north to south, as well as the distances from Orlando and the addresses of each point of interest, so you can program them into your GPS.  
Florida A1A and S Fletcher Ave., Fernandina Beach
Get off the Interstate, ease your foot off the gas, and treat yourself to a 40-mile cruise along the Atlantic coastline. The Ocean Islands Trail, one of 26 Florida Scenic Highways, parallels Amelia Island's cinnamon-sand beaches, wanders the wetlands of the Timucuan Ecological and Historic Preserve, crosses the St. Johns River, and finishes with a flourish of Jacksonville-area beaches.
Time allowance: 1-2 hours.
Distance from Orlando: approximately 173 miles (278 kilometers)

Treaty Oak Park
If you took the scenic highway side trip (or even if you didn't), there are things to do and see in Jacksonville. Did you know that Jax has the nation's largest urban park system, plus more shoreline than any other American city? Welcoming  neighborhoods such as Riverside, Five Points and Downtown are destinations for art walks, fine dining, and the Jax Ale Trail.
Time allowance: 2-4 hours or 2-4 days.
Distance from Orlando: approximately 141 miles (226 kilometers)
Florida's first luxury estate also is a resident on the National Register of Historic Places. Built in 1886 for hatmaker John B. Stetson, the 10,000-square-foot mansion is "the epitome of the Victorian era," says owner JT Thompson who, with his partner Michael Scolari, restored the landmark to its 19th-century elegance (while also updating the electric and kitchen appliances). The spacious front porch demands attention as do the Tiffany stained and leaded glass windows. Around the estate are multiple fountains, a putting green, gazebo, pool, and tranquil meditation garden. Inside are some of the most intricate parquet floors in the world, many of which are designed in 3D patterns that change from room to room. Take a tour.
Time allowance: 2 hours.
Distance from Orlando: approximately 40 miles (64 kilometers)
If you were to assemble a list of quirky roadside attractions, you might start with the Cassadaga Spiritualist Camp. George P. Colby, a medium from New York state, founded the camp in 1894 while noting its unique energy level. In the 57 acres, there are 55 homes. According to the Cassadaga website, "Many of the Camp's residents are mediums and healers who offer their services from their homes or apartments."
Time allowance: 2-4 hours or an afterlife.
Distance from Orlando: approximately 35 miles (56 kilometers)
Florida's 700-plus natural springs are a can't-miss, bucket-list vacation experience. 72 degrees year-round. A clear lens into the Floridan Aquifer, the beating underwater heart of the Sunshine State. You can dive and snorkel and explore. Or you can just float and forget where you were going and why you were in such a hurry. Wekiwa can be appreciated on foot, bicycle, and horseback, in a kayak or canoe.
Time allowance: 4 hours.
Distance from Orlando: approximately 17 miles (27 kilometers)
WELCOME TO ORLANDO
Orlando, Kissimmee, Lake Buena Vista, Celebration and, farther west, Winter Haven and Tampa are internationally recognized destinations -- powered by Disney, Universal, SeaWorld, and LEGOLAND. 
In short, Florida is the theme park epicenter of the world and Orlando is its capital. Every day here, no one is too old, or too young, to wear Mickey ears or wave a wand and cackle in delight.
I-Drive in Orlando is 11 miles of sensory overload such as the Wheel at ICON Park and WonderWorks. Disney Springs combines shopping, dining, attractions, and live entertainment. Think Kate Spade plus NBA Experience plus Chef Art Smith's Homecomin' plus Cirque du Soleil equals everybody's happy. 
Professional sports teams include the NBA's Magic and Major League Soccer's Orlando City SC.
Besides the theme park titans -- Disney, Universal, and SeaWorld -- here are a couple other destinations to watch:
- Orlando Watersports Park
- Kissimmee's Fun Spot
Jodi Mailander Farrell wrote: "Some celebrities are so famous they need only one name. In Florida, it's Zora. That's for Zora Neale Hurston, the celebrated Harlem Renaissance author, best known for her novel, "Their Eyes Were Watching God." Visitors can celebrate the literary icon at the January festival bearing her name and year-round by exploring the first incorporated all-black city in the nation
Janet K. Keeler wrote that "Orlando International Premium Outlets may just have the best location of any shopping mall in the U.S.A. The complex has unmatched visibility, tucked as it is into a huge pie-shaped parcel where Interstate 4 and the Florida Turnpike meet." Audubon Park is a shopping and dining district surrounded by 1920s bungalows and more modern ranch-style homes. 
In Orlando, like any major American city, eating out is a smorgasbord of exquisite experiences: James Beard chefs, concentrations of cultures such as Vietnamese and Puerto Rican, fan favorites, and local color. 

VISIT FLORIDA's Lauren Tjaden wrote: This sport promises "beauty – from the balloons gathering heat and taking shape in the early-morning field to the views the low, slow flight provides. I find it odd when ballooning there is no sense of flying whatsoever – it's like standing in your living room, since you are moving at exactly the same speed as the wind." Here's a list of Florida balloon companies.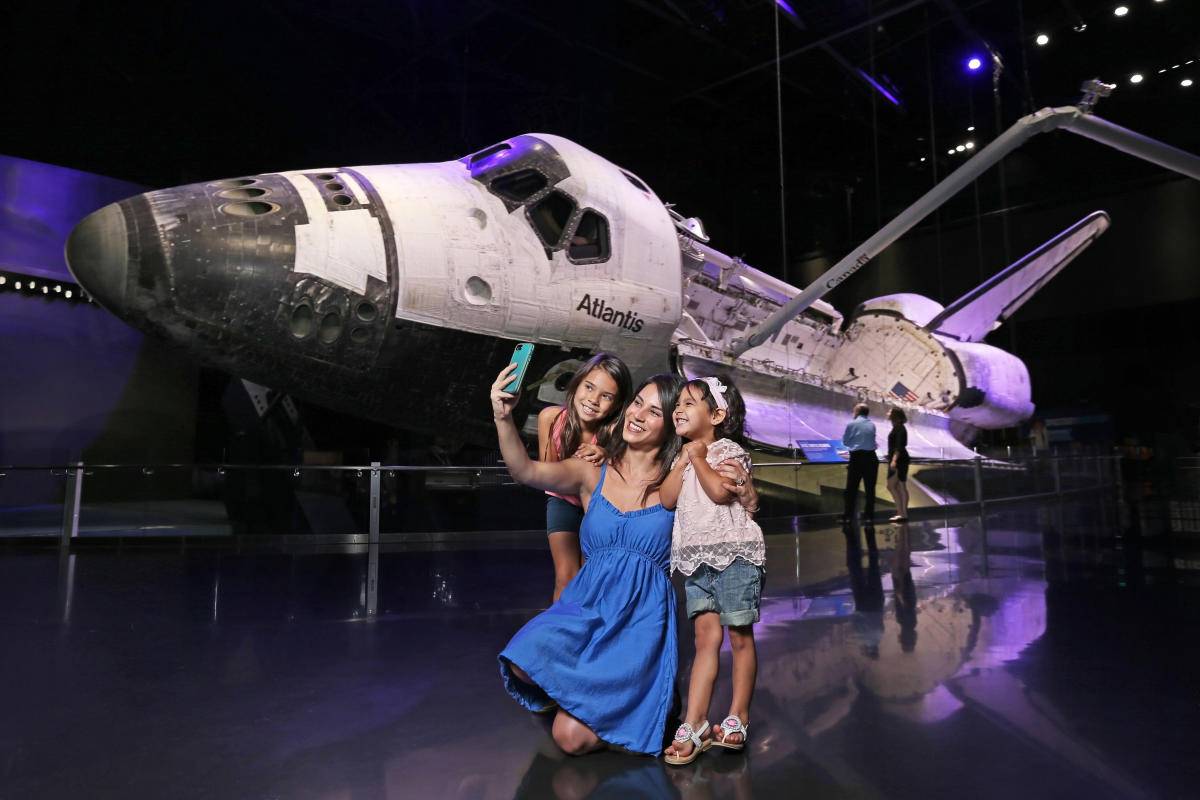 For close to 60 years, Cape Canaveral and Kennedy Space Center have been the world's launchpad for manned space flight. Mercury. Gemini. Apollo. The space shuttle. At the Visitors Center, you can stroll through a garden of rockets or watch one rise into the blue.
And if you're this far east, remember the beaches just an hour from Orlando. Of Canaveral National Seashore, Jon Wilson wrote: "It is a band of beige sand 24 miles long. But its emotional reach cannot be quantified. ... (Canaveral) is a Florida beach, but look up and down it. No buildings crowd in. Traffic doesn't drone. You won't see parasailing, tiki huts, volleyball or cabana rentals. You may not see another human being."  
Driving from New York City to Orlando is a road trip full of Florida adventure possibilities. The Orlando theme parks and entertainment centers may be your ultimate destinations, but along the route there are numerous Florida points of interest and memories to make. Enjoy the ride.
The short question might be: How much vacation time you got?