By Kevin McGeever
The drive from Atlanta to Jacksonville is a 350-mile road trip from bustling to busy with bucolic in between.
Point A (Atlanta) is undeniably one of America's great urban centers.
Point B (Jacksonville), you may be surprised to know, is the largest city in square miles in the contiguous United States, has the nation's greatest urban park system, plus more shoreline than any other American city.
But more on Jacksonville in a minute, because between where you are and where you are going? There are so many things to do in natural north Florida.
If you can spare a few hours on your Florida vacation -- better, a day or two -- you might:
- tour a Civil War battlefield;
- camp along the Suwannee River;
- and let your worries wash away in one of Florida's natural springs.
You can create your own travel itinerary for driving from Atlanta to Jacksonville with the VISIT FLORIDA planning tool -- but here are some thought starters on what you can appreciate on your road trip through Florida, and what to expect when you reach Jacksonville.
 
ESSENTIAL INFORMATION
Distance from Atlanta to Jacksonville:  approximately 350 miles (563 kilometers)
Driving time: 6 hours
Best route(s): I-75 south to I-10 east
Fuel costs: use this calculator
Charging stations: plot your course on Plugshare
Rest areas: Interstate 75 in Georgia, Interstate 75 in Florida, Interstate 10
Alternative transportation: Megabus and Greyhound. Travel time 7-9 hours.
 
PLACES TO STOP ALONG THE WAY
Here are some Florida things to do from west to east, as well as the distances from Jacksonville and the addresses of each point of interest, so you can program them into your GPS.
Lake City is the Columbia County seat and the staging area for a menu of outdoor adventures that range from lazy drift to bold bounce. Up to a dozen springs are within your grasp, such as Ichetucknee, Ginnie, Peacock, and Gilchrist Blue Springs. These are the real fountains of youth: glass-clear waters for snorkeling and diving and they're 72 degrees year-round. Big Shoals State Park has the largest whitewater rapids in Florida, a Class III-level experience (though it is seasonally dependent on the water level in the Suwannee River). For a historic night's sleep, stay at the Hotel Blanche. In 118 years, its guests have included music legend Johnny Cash and Prohibition-era gangster Al Capone.
Time allowance: 4 hours to as many days as you can spare.
Distance from Jacksonville: 62 miles (100 kilometers)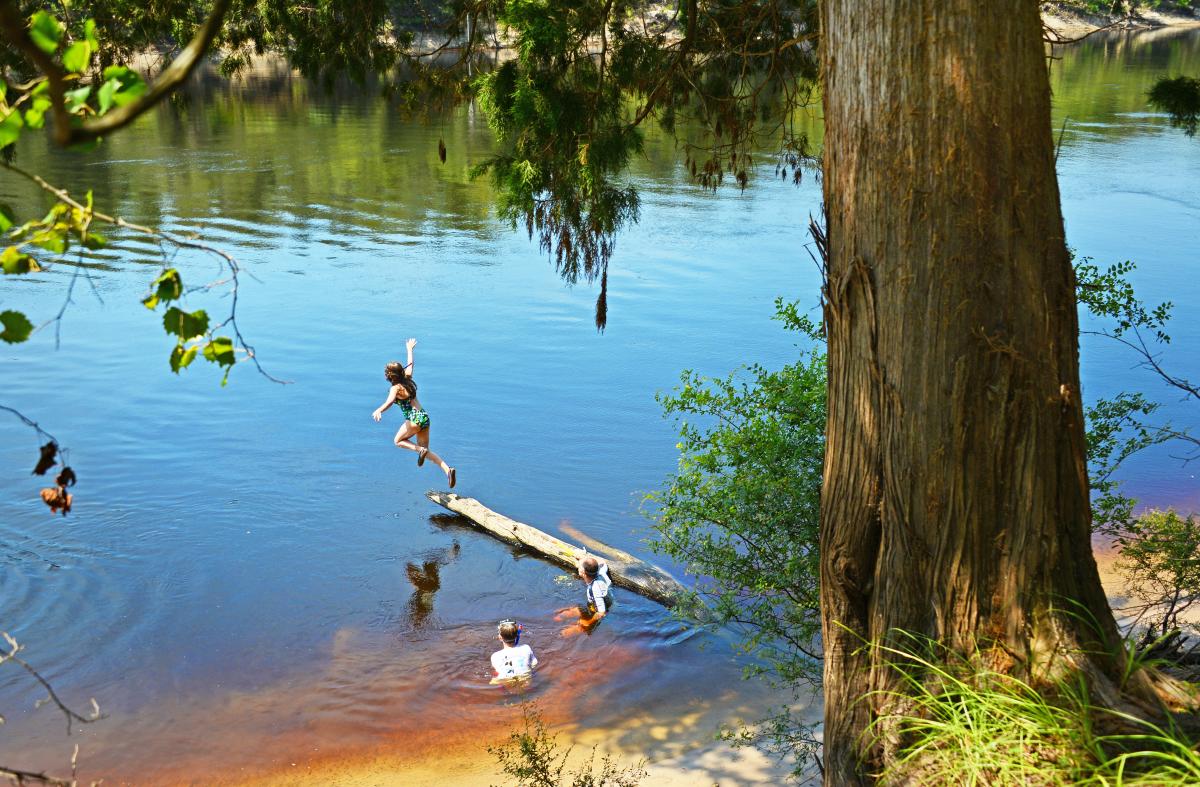 4298 NW County Road 292, Mayo
The Suwanee River Wilderness Trail is a paddling and rural odyssey through north Florida. River camps, small-town hubs, and parks are the links in a river trip that can be rustic and relaxing.
Time allowance: At least two days.
Distance from Jacksonville: 111 miles (178 kilometers)
24874 US 90, Sanderson
This is one of three national forests in Florida along with Apalachicola in the Panhandle and Ocala in the state's center. Olustee, the site of Florida's only Civil War battle, is here, as are sections of the Florida National Scenic Trail and the Great Florida Birding Trail. Ocean Pond is the forest's popular mecca, a 2-mile-wide lake for boating and swimming, plus 67 campsites and access to hiking, fishing, horseback riding, and wildlife viewing.
Time allowance: 4 hours or more.
Distance from Jacksonville: 51 miles (82 kilometers).
 
WELCOME TO JACKSONVILLE
Look at a map and you can see how water runs through Jacksonville's identity.
There are 1,100 miles of navigable waterways, including 40 miles of Intracoastal Waterway and 50 public boat ramps.
The St. Johns River, which flows north to the Atlantic Ocean, is part sea water; dolphins, manatees, and even sharks are common sights.
The water feeds wetlands and marshes that give life to the three national parks, seven state parks, and 400-plus city parks.
Thriving neighborhoods such as Riverside, Five Points and Downtown are destinations for art walks, fine dining, and the Jax Ale Trail.
Let's take a deeper dive and go backward to come forward.
the scene of 6,000 years of human history, is one of the last unspoiled coastal wetlands on the Atlantic coast, where the St. Johns meets the ocean. The Timucua, prehistoric native Americans and also the original Floridians, lived here millennia before the first Europeans arrived. Fort Caroline, briefly the home of French colonists, is the shorthand for a memorial site. The search for the physical remains of the 16th-century fort has confounded researchers for generations. A decaying semicircle of small tabby cabins housed adult and children slaves who worked the Kingsley Plantation in the 1800s.

A historic stop on Florida's Black Heritage Trail. In 1935, Abraham Lincoln Lewis founded this piece of shoreline on Amelia Island to provide black citizens denied by Jim Crow laws with a beach that they could enjoy. By the 1940s and 1950s, African Americans were coming from across the South to vacation here. Jacksonville-area beaches such as Amelia Island are welcome to horseback riders, if you can tolerate a golden-hour walk on a wide beach scrubbed smooth by the rolling Atlantic surf. Big Talbot Island State Park is renowned for Boneyard Beach, the final resting place for the salt-washed skeletons of live oak and cedar trees.
Northeast Florida also is the unquestioned, and perhaps underappreciated, home of golf. The World Golf Village and the Hall of Fame are in St. Augustine. Every spring, global golf fans by the millions watch The Players Championship at TPC Sawgrass in Ponte Vedra Beach. The 17th-hole island green, a graveyard for golf balls, is the most famous piece of closely cut grass in the world. Elite golfers can be made to look foolish here -- a satisfying catharsis for us regular humans.
America's oldest city is an exceptional day trip from Jacksonville -- just 45 minutes by car -- that invites visitors to interact with 450 years of colonial and civil rights history. The contributions of the European colonists (Spanish, British, and French) as well as freed African-American slaves and native Americans (the original Floridians) are reflected in historic forts (Castillo de San Marcos, Mose, and Matanzas) and food (pilau and Datil peppers). St. Augustine also is a significant stop on the Florida Black Heritage Trail and one of the main battlefields of the Civil Rights era. The Lincolnville Historic District, a neighborhood originally established by former slaves in 1866, was a Florida stopover for Civil Rights heroes Dr. Martin Luther King Jr. and Andrew Young.
Driving from Atlanta to Jacksonville is a road trip full of Florida outdoor adventure possibilities. Enjoy the ride by stopping to make memories.