By Kevin Mims
Destin is known for its white-sand beaches and stunning views of clear, blue-green water, but some of the most captivating scenery lies beyond the beach and under the surface.
Nestled on the Emerald Coast in Northwest Florida , west of Panama City Beach, Destin, dubbed "The World's Luckiest Fishing Village," is also one of the best places in the state to go snorkeling. The clear water and white sandy bottom allow for easy viewing of marine life, including large schools of fish, stingrays, seahorses, crabs, anemones, sea urchins, and sea turtles.
Depending on the tide and location, visibility can be anywhere from 20 to 80 feet. The best spots to go snorkeling vary from protected jetties to deeper areas accessed by boat and found with the help of a local guide.
Surrounded by dunes, Norriego Point is a small peninsula of soft white sand that sits back from the Gulf of Mexico with Destin Harbor to the west and East Pass to the east. The protected jetties at the east side of the peninsula are where you'll find calm areas for swimming and snorkeling. Norriego Point public beach access is at the west end of Gulf Shore Drive.
Henderson Beach State Park has some pretty spectacular views before you even reach the water. The park has gleaming white sand dunes standing 30 feet high and a mile of unspoiled and uncrowded shoreline, where swimmers and snorkelers can explore the clear Gulf water. Henderson Beach State Park is an important nesting area for loggerhead sea turtles, which you might encounter in the water. In the summer months, the water temperatures peak in the 80s.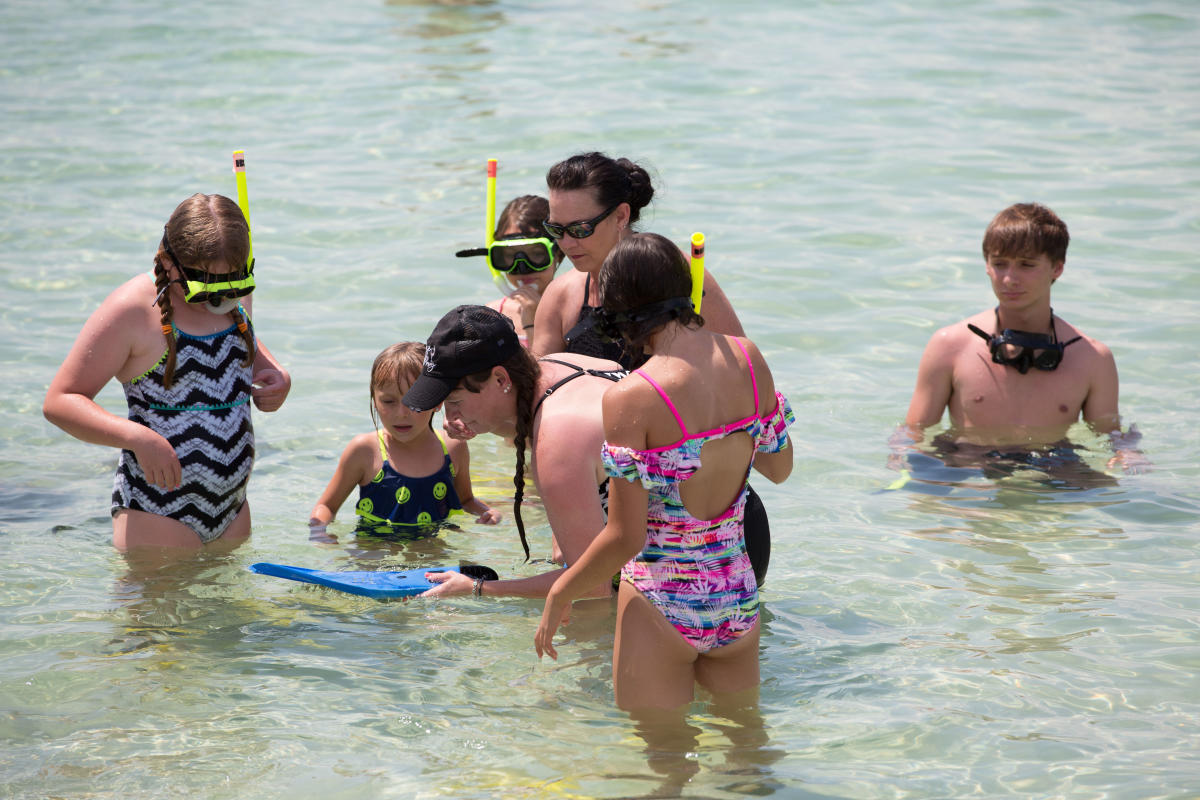 East Pass and Destin Jetties, at the Destin Bridge and U.S. 98, near HarborWalk Village, are popular for snorkeling as well as fishing and scuba diving. The jetties serve as man-made reefs where fish are plentiful. Here, snorkelers can see sheepshead, snapper, redfish, and sometimes barracuda out there, as well as invertebrates like octopuses and hermit crabs. Slack high tide is the best time to visit because of currents and visibility (current is stronger with the outgoing tide). The area can be reached by boat or by shore. Experienced snorkelers can explore Destin Jetties on their own. Alternatively, Destin Snorkel provides snorkel tours here for all levels of experience. Parking is available at O'Steen public beach access on Gulf Shore Drive.
For an adventure that starts farther out from the beach, book a ride with a tour boat operator, who will know the best spots to see wildlife. Some of the clearest water can be found offshore, and visibility tends to be best farther away from the beaches. As a bonus, you'll likely see dolphins between snorkeling spots, and some snorkeling boat tours offer dolphin-watching as part of the package. Tour operators are also knowledgeable about water conditions and tides, which is important for planning any snorkeling trip.
Whether you want to step off the beach and do a little underwater exploring on your own or you'd like a knowledgeable guide to show you the best of what's around, you can get everything you need—rental masks and snorkels, fins, and boat rides—from local snorkel and dive shops.
Two- and three-hour guided trips are available through Destin Snorkel, which opens for the season in March. Flipper's Adventures offers 2.5-hour snorkel tours.
For something a little different, look into snorkel tours aboard a catamaran such as the Cattywampus.
For anyone ready to venture outside of snorkeling but not quite ready to take the plunge into scuba diving, snuba is the perfect option, even for kids 8 and up. Unlike scuba diving, snuba doesn't require any prior training or experience. It's like snorkeling but you don't have to stay at the surface to breathe—an air hose allows you to stay underwater for up to half and hour and swim as deep as 20 feet. Destin Snorkel offers a guided, three-hour snuba tour, where participants can see animals they might not see on a regular snorkel tour, such as flounder and burrfish.
Planning a trip and want to get a look at Destin? Here are several live beach cams, including some that overlook Destin from Emerald Grande Resort at HarborWalk Village.