By Gary McKechnie
Only a handful of Florida counties truly capture the state's essence that natives know by heart and travelers from around the world long to discover.
Levy County, Florida is one of those places.
From the Gulf Coast to its eastern border roughly 45 miles away, that Florida essence found in destinations that reflect the best of the state: the lonely country roads, the rustic fishing villages, the clear natural springs and tea-stained rivers; the small towns and natural wildlife.
If you're seeking a bite-sized version of real Florida, Levy County awaits.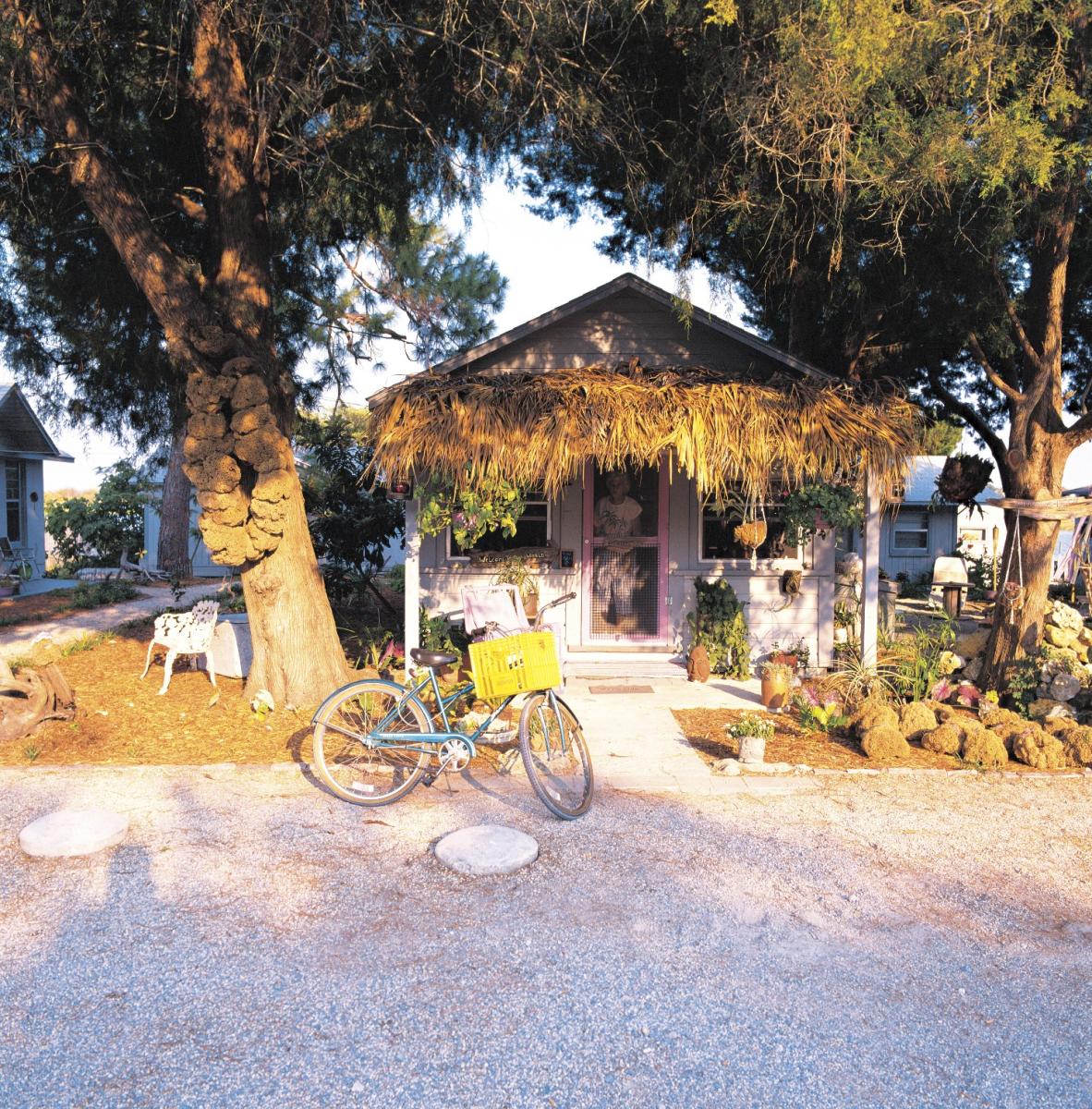 Cedar Key: We're #1
With its assortment of far-flung towns and cities, consider starting your tour not in the county seat of Bronson but in the coastal community of Cedar Key. If the name sounds familiar, you may have heard that readers of Budget Travel magazine named it Florida's #1 small town (and #8 in America). It's also the "#1 Producer of Farm-Raised Clams." 
It takes some effort to reach Cedar Key, located well off main roads 90 minutes southwest of Gainesville. But if your heart races when you re-discover Old Florida, your efforts will be richly rewarded. Unlike destinations whose popularity led to changing what made them popular in the first place, Cedar Key stubbornly clings to its rustic nature. 
You'll feel that as you close in and pass beside the Cedar Key Scrub State Reserve on C.R. 24. You'll spy old marinas and salt-sprayed boats, small diners, ramshackle motels and a hand-painted sign ("Fine Art & Smoked Mullet") that perfectly captures the quirky attitude of the place. In the village, the Second Street commercial district looks like a propped-up collection of movie Western facades. Weather-beaten buildings from the mid- to late-1800s, gray shells of buildings, and empty lots are interspersed with a handful of businesses including the Cedar Key Welcome Center. 
A few blocks away the circa 1859 Island Hotel & Restaurant is listed on the National Register of Historic Places and features 10 rooms, a restaurant, and nostalgia. Hang out at its small bar and you wouldn't be surprised if Ernest Hemingway sidled up beside you and ordered a draft beer. 
At the east end of the avenue is a city park, playground, beach and modern hotels and condos. At the west end, Tony's Seafood earns high marks for its friendly servers and impressive menu. Nearly everyone orders clam chowder, which gained a reputation after being named the world's best three years in a row. Today, Tony's clam chowder is sold at restaurants across Florida and, via mail order, around the world. 
After dining, step across the street to the Cedar Key Historical Museum for an instant education on the island's astounding history – a history so impressive it takes a second nearby museum, the Cedar Key Museum State Park, to fully tell the story of Cedar Key's ups and downs. 
Very briefly, in the 1860s the town was the western terminus of the Florida Railroad that ran across the state from Jacksonville. Cedar Key might have blossomed into a major city had it not been for a competing railroad that moved things to Tampa. Next, the island's plentiful cedar trees made it a natural for manufacturing pencils, but in just three years – 1885 to 1888 – residents had butchered nearly every cedar tree and that industry went bust. Folks tried oyster fishing for a while but, as with the cedar trees, they quickly depleted the supply and that industry folded. Then in 1896 a hurricane hit and wiped nearly everything away. 
Around 1910 residents began making natural brooms and brushes and those were popular until around 1950 when plastic brooms arrived and swept them aside. Fishing hung around until a 1995 ban on net fishing hobbled the industry. Today the community relies primarily on tourism and farm-raised clams to keep things afloat.
A few blocks south, the heart of Cedar Key beats strongest on the waterfront. Boats are putting in at ramps, visitors are selecting from several island tours, and people are fishing from a wonderfully elaborate concrete pier. With a line of unpainted buildings along the coast, the scene looks as if it were created for a motion picture. Whether you stop in these gift shops, ice cream parlors, bars, hotels, restaurants, or outdoor cafés, it's a pleasure simply to stroll the district. 
While a day trip can be satisfying, Cedar Key is often viewed as a retreat for a weekend or longer with time reserved for fishing excursions, boating to nearby islands, sampling its assortment of restaurants, and exploring the two-square mile island.
Some visitors choose to do the one thing that can make a vacation memorable. 
Absolutely nothing.

Man, Oh Manatee Springs
From Cedar Key, Highway 24 darts inland and connects with C.R. 345, which leads to Chiefland. The drive is an absolute pleasure (especially for motorcycles) as it passes remote communities like Carter's Crossroads, Curry Village, and Rocky Hammock. 
Aside from several hotels and a chain of recognizable restaurants, the town of Chiefland has relatively little to offer tourists aside from Fanning Springs State Park about 10 miles north in neighboring Gilchrist County. Don't despair. Its Levy County relative, Manatee Springs State Park, is just 15 minutes west of town on C.R. 320 -- and it just happens to be one of Florida's most picturesque spots.
Enveloped by forest hues of brown and green, the bright blue spring sparkles in the daylight. Even when guests are splashing in the water and picnic pavilions are filled with visitors, there's a peaceful vibe throughout the park. There's the smell of hot dogs and hamburgers grilling over charcoal and a barbeque smoker cooking up meals for the refreshment stand. Nearby, bicycles and canoes, SUPs, and kayaks are available for rent. The park even rents pontoon boats for a powered voyage. 
In this idyllic setting a shaded boardwalk follows the flow of the spring, slipping through the deep cypress woods, adding waterfront observation decks here and there, and ending at a gazebo on the riverfront. And the pontoon boat you've reserved? It's waiting for you where the Suwannee River looks as wide as the Mississippi.
There are more than 100 state parks across Florida. This is one of the best. Busy on summer weekends, arrive off-season and you could consider this your own private sanctuary.
Along Came Bronson
Incredibly, Levy County has yet another surprise. Florida can lay claim to a lot of musicians who were born either born here (Tom Petty, Mel Tillis, Gram Parsons) or moved here (Ray Charles) or moved away from here (Debbie Harry). Bo Diddley was different. He chose to move here. 
The Rock and Roll Hall of Famer who influenced Buddy Holly, the Rolling Stones, Eric Clapton, Led Zeppelin, the Beatles, The Who, Rolling Stones, Led Zeppelin, The Doors, Yardbirds, Eric Clapton, Tom Petty, George Thorogood, and the Grateful Dead lived in the town of Archer (15 miles southwest of Gainesville) before passing away in 2008.
To pay your respects to Bo, visit Bronson, the county seat. From the junction of highways Alt 27 and 24, just drive about a half-mile east on 24 to the Rosemary Hill Cemetery. From the street you can't miss the magnificent marker highlighted by Diddley's classic cigar box-shaped red guitar.

Winding It Up in Williston 
What Levy County lacks in population, it makes up in places. Williston proves this point. 
Despite a molasses-slow appearance, within a few miles of Williston's downtown district are about a half-dozen sites you'll find hidden well off the beaten path.
Five miles north of town is the Two Tails Ranch, a sanctuary for up to half a dozen Asian elephants who share 80 acres with an octogenarian tortoise, a camel, a few zebras, an ostrich, emus and lemurs. The elephants are the stars of the show and guests who visit during scheduled hours aid in their care through admissions and donations. In addition to being educated on the life of these magnificent creatures, for an extra fee you'll be able to feed them, pose for a photograph, and take home one of their paintings. (Yes, elephants can paint.)
Three miles northwest of town, a lonely road leads to Devil's Den, which may be Florida's most unusual natural spring. A legend among serious scuba divers and adventurous snorkelers, the thrill begins when you descend 30-odd steps down a narrow stone tunnel. Far below ground a nearly circular pool of crystal-clear water sparkles in the sunlight that shines through a wide opening in the cavern's ceiling. From a floating platform, divers descend into the deep blue pool while swimmers float atop the surface checking out each inch of the pool. 
Many photos are taken of the pre-historic pool at water level, but follow the boardwalk on the surface to an observation deck where you can peer down through the opening to see the swimmers and the pool below. Cabins, a campground, RV park, pool, and pro shop add to the appeal of this dive resort.



While it's hard to imagine something more, say, unusual than Devil's Den, all you have to do is visit next door. An archway frames the entrance to Cedar Lakes Woods & Gardens, which you access via a long and hilly and bumpy road made of dirt and gravel and concrete. Just when the thick vegetation convinces you you've taken a wrong turn, you arrive at the entrance where a botanical garden has been created out of… nearly nothing.
From a century-old limestone quarry Dr. Raymond Webber and a team of dedicated landscape artists created 50 separate gardens divided by ponds, walkways, and waterfalls. Blooming flowers, graceful swans, koi, sunning turtles, lily pads, and songbirds create an oasis of peace and tranquility within Florida woodlands.
Only a few miles away on the south side of Alternate 27, the Blue Grotto is another site popular with scuba divers. Found down a long canopy road the dive resort includes a dive shop, guest cabins, and diving classes. Bordered by a wide deck for suiting up, divers splash into the 80-foot wide spring and then descend as deep as 100 feet in water legendary Jacques Cousteau noted had "visibility forever."
Make one last stop in Williston. Located in an historic home near the heart of town, the Ivy House restaurant seems as if it would be at ease in upscale Savannah. With upstairs reserved for a boutique, rooms on the first floor have been transformed into dining areas that attract the town's social circle as well as visiting travelers. Items including fried green tomatoes, BBQ shrimp and grits, fried chicken and southern fried cod are served with a side of pure Southern hospitality.
Just like Levy County, Fl. 
When you go…
There's much more to discover in Levy County, including Yankeetown, Inglis, the Withlacoochee River, Goethe State Forest, Lower Suwannee Refuge, Cedar Keys National Wildlife, birding, boating, horseback riding and fishing. For more information visit the Levy County Visitors Bureau. 
Photos by Gary McKechnie for VISIT FLORIDA