Digging for dinosaur bones! Riding a runaway train! Soaring on a banshee! Animal Kingdom promises these extraordinary adventures and more. Check out a few favorites.
Every Na'vi hunter on Pandora goes through a coming-of-age ritual: he or she must bond with and take flight on the back of a powerful, winged mountain banshee, a wondrous yet terrifying experience. You can test your ability like the Na'vi on this thrill ride, clinging to your own banshee on a breathtaking 3D aerial expedition over Pandora's eerie land.
Your smallest would-be paleontologists can play in this open-area, inspired by a dinosaur dig. The fun includes excavating fossils from prehistoric beasts like a Triceratops and Tyrannosaurus Rex, navigating rope bridges, winding through shadowy caves and flying down twisty slides. Meanwhile, mom and dad can kick back and cool down at a seating area in the shade, made even better with large fans.
Complete with loud noises in the dark, this scary thrill ride will take you on an adventure through an ancient woodland chock-full of menacing dinosaurs. In a contest with the clock, you'll try to escape before a giant meteor wipes life on Earth, all while dodging hungry Velociraptors, navigating hair-raising turns and avoiding scorching meteors thundering down.
Expedition Everest comes with the warning that, "this attraction features loud noises, fast drops, high speeds, dark places and frightening creature effects" – which make it perfect for adrenaline addicts. Your journey starts in a Tibetan village at the base of Mount Everest, where you'll ride a train up a steep climb to the top of the peak. Hang on when a scrambled track appears in front of you, because you're about to rocket backward into pitch-black darkness, where you'll be confronted by an enormous, snarling monster.
The creatures at Animal Kingdom are what sets the theme park apart, making your getaway unique and memorable. A don't-miss experience is watching majestic African Lions and herds of African Elephants roam on the generous grasslands of the Kilimanjaro Safaris. For an unforgettable encounter, get Up Close with Rhinos—really close—in a 60-minute guided adventure where the rhinos' keepers bring you backstage to meet Earth's second-largest land animal. After the sun goes down, the Savor the Savanna safari tempts visitors with a privately guided journey that reveals the sights, sounds and flavors of Africa. Here's a complete list of the animals you can meet at Animal Kingdom and the different ways you can enjoy them.
More Pixie Dust
You're just getting started: Animal Kingdom's theme park boasts 46 must-do attractions. Kali River Rapids delivers an exhilarating whitewater adventure down a foaming river, while the Na'vi River Journey beckons visitors with quieter river, one that flows through caves and into a stunningly beautiful bioluminescent rainforest, alive with mysterious plants and animals. And no journey to Animal Kingdom is complete without seeing its iconic symbol, the Tree of Life, a 145-feet tall wonder. With its twisted roots and outstretched branches, it's majestic from afar – but unbelievable up close, with the forms of over 300 animals carved into it. Here's a list of all of Animal Kingdom's attractions and rides.
Tips
FastPass+ , which is included in the price of your ticket, can help you skip the lines. It lets you reserve access to Walt Disney World attractions, entertainment and Character Greetings in advance—up to 30 days in advance of your visit, or 60 days prior to check-in if you're planning to stay at a Disney Resort hotel.
Make sure to download the My Disney Experience app; it gives you attraction wait times, showtimes for fireworks and parades, and finds Character Greeting locations and times.
The app offers other nifty features too, including browsing restaurant menus, making dining reservations and placing mobile orders at select quick-service restaurants.
And you'll never get lost when you use the 'Get Directions' function.
Disney's planning page can help you answer other questions.

Firework spectaculars, parades, shows, music and sharing time with beloved Disney friends are all part of the Animal Kingdom experience. Here are a few you don't want to miss.
Parrots are the winged stars of this show near the Tree of Life, a living flurry of stunning color and grace. Your eyes will be glued to the skies as this free-flying flock of feathered friends soars, wingtip to wingtip, over Discovery Island. Disney's resident bird care experts will reveal the secrets of these mesmerizing macaws and answer audience questions.
Brimming with a love of nature and spirit of adventure, Pocahontas is as beautiful on the inside as she is on the outside. Known for welcoming visitors with open arms, this Native American Princess can't wait to hear about your homeland and share her own world with you.
Poignant and immersive, both of these Broadway-style shows are worth seeing. Festival of the Lion King is vibrant with music, pageantry and puppetry honoring the classic movie, The Lion King. Finding Nemo - The Musical pays tribute to the award-winning Disney and Pixar film Finding Nemo, showcasing the film's emotion, wit and beloved characters.
The iconic symbol of Disney's Animal Kingdom park comes to life in this hypnotic after-dark experience, accompanied by an original musical score inspired by The Lion King. Mystical fireflies, hummingbirds in love and a stealthy fox all play parts in the luminous visual display.
More Pixie Dust
The wonder continues with the Pandora Rangers, where you can witness a Pandora Conservation Initiative scientist piloting a 10-foot-tall mechanical suit through the Mo'ara Valley; the Viva Gaia Street Band, an eclectic troupe of boisterous musicians heading up a Caribbean street party; and Bollywood Beats, a high-energy, interactive Indian dance experience, showcasing traditional moves and mesmerizing musical numbers. For even more offerings, take a peek at this list of all of Animal Kingdom's Characters and Entertainment. 
Tips
Check the Entertainment Schedule, My Disney Experience app or the Times Guide at Magic Kingdom park for the schedule and showtimes. Be aware that outdoor parades and events may be cancelled due to inclement weather, and that showtimes are subject to change.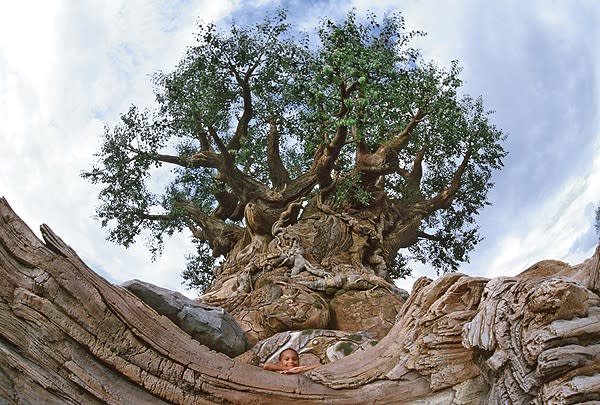 Animal Kingdom plays host to marathons, behind the scenes tours, seasonal celebrations and events of all kinds. Check out some of these popular Disney Aninal Kingdom events:
Enjoy more magic in less time when Animal Kingdom stays open for three extra hours for guests with special event tickets for Disney After Hours. The wait times for attractions and character greetings are blissfully short, plus snacks like ice cream, popcorn and select beverages are included with the cost of admission.
Family fun and fitness are the hallmarks of this four-day event offering races on scenic courses that range from kid-friendly to demanding, capped off with an exciting post-race gala.
During this nighttime, four-hour guided group extravaganza you'll experience attractions that include Expedition Everest – Legend of the Forbidden Mountain, Kilimanjaro Safaris, Avatar Flight of Passage, Na'vi River Journey, DINOSAUR plus the Rivers of Light nighttime spectacular. Specialty beverages (nonalcoholic or alcoholic for Guests 21 and older) and signature snacks are included, providing the perfect remedies when you're parched or need to refuel.
The three-hour Wild Africa Trek is as close as it gets to seeing wild animals in Africa without actually going there. On this privately priced tour you'll stroll a grassland trail, navigate a rope bridge and climb aboard a hardy safari vehicle to see giraffes, rhinos, hippos, crocodiles and more in the Safi River Valley, an unconstrained environment that mimics their natural home.
More Pixie Dust
Here's a complete list of Animal Kingdom's special events and tours.
Animal Kingdom tempts visitors to relish mouthwatering meals and delicious desserts inspired by American, Asian and African favorites, as well as fabulous foodie snacks that you can enjoy on the go. Check out these yummy Animal Kingdom restaurants and dining options:
The Rainforest Cafe invites you into another world, a lush, vibrant tropical rainforest complete with thunder and abrupt downpours as well as birds, elephants, gorillas and schools of radiantly hued fish.
This unlikely jungle promises a feast on American fare that your whole gang will love. Breakfast offerings include Eggs Benedict, French toast and Belgian waffles; dinner and lunch include temptations like Jungle Steak and Shrimp, Lava Nachos and the Beastly Burger, and a bowl of Python Pasta or a Gorilla Grilled Cheese will keep the kids happy.
Explorers who are 21 years of age and older can cap off the evening with a safari to the Magic Mushroom Bar, to discover delights like a Mongoose Mai Tai or a Cheetah Rita.
Shush! This refreshing retreat is a secret! The relaxed vibe, good eats and a large selection of beer, wine and mixed drinks make the Nomad lounge a favorite with park insiders. Lounge in comfy chairs or on couches gathered around coffee tables while you sample delectable small plates inspired from exotic locales around the world, like Chicken Manchurian or Togarashi-spiced Tuna Nomad Bowls.  Non-alcoholic cocktails, freshly ground coffee and loose-leaf teas are also available.
Consistently ranked as Animal Kingdom's best fast-casual food, this unique eatery is tucked inside a Quonset-hut that was a long-ago an RDA mess hall. It offers healthy, internationally inspired dishes packed with wholesome grains, fresh veggies and abundant proteins. The kids will appreciate the familiar flavors of favorites like the Steamed Cheeseburger Pod with vegetable chips or the cheese quesadilla. Cap off a meal with the Blueberry Cream Cheese Mousse and your whole posse will be smiling.
Lip Smackin' Snacks
To refuel on the go, check out these Animal Kingdom favorites.
·         Whether they love it or not so much, everyone has a strong opinion about the Pongu Lumpia at Pongu Pongu, a popular drink stand in Pandora – The World of Avatar. It's a fried pineapple cream cheese goodie that's sweet, savory, crispy and gooey, all at the same time.
·         Trilo-Bites, located in DinoLand U.S.A., delivers a wallop of flavor with its Buffalo Chicken Chips, a plentiful portion of house-made chips flavored to your desires, smothered with shredded buffalo chicken and finished with creamy blue cheese, ranch dressing and garnishes.
·         You can't go wrong with the Baked Macaroni & Cheese at Eight Spoon Café in Animal Kingdom's in Discovery Island, which you can enjoy in its simplest version, or with additions of Shrimp and Sweet Chili Sauce or Pulled Pork.
More Pixie Dust
For more options, check out all 37 of Animal Kingdom's restaurants.
Tips
In addition to a confirmed dining reservation, in-park dining at table-service restaurants requires a park reservation and valid admission for the same park on the same date for each person in your party ages three and up. Dining reservations don't guarantee admission to the park.
Make sure to make reservations, and make them early. Dining reservations can be booked online up to 60 days in advance.
The My Disney Experience app lets you browse restaurant menus, make dining reservations and place mobile orders at select quick-service restaurants.