By Saundra Amrhein
 
A soft breeze stirs the Spanish moss draping vast live oaks surrounding old mansions in Brooksville near Florida's west-central coast. Kenneth Badgley of the Historic Hernando Preservation Society drove slowly along Irene Street and others lined with brick dating back to the early 1900s.
"This is one of the original neighborhoods," Badgley said.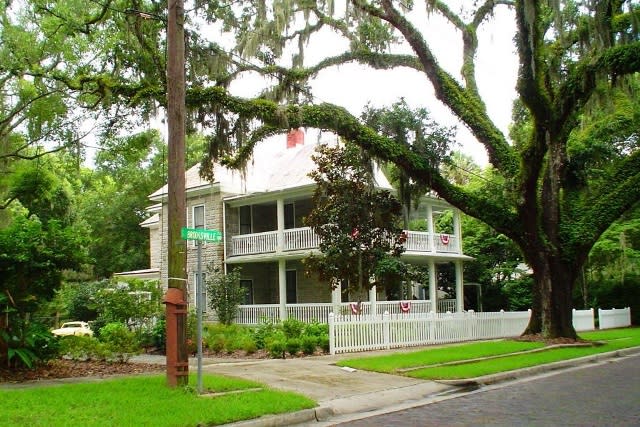 The Jennings House, courtesy of Ken Badgley
Many of the houses, though, go back further still – like the estate of late Florida governor William Jennings, built in 1891 as a Victorian mansion with a two-story wrap-around veranda and later converted to a Colonial Revival house. Badgley pointed out the Queen Anne-style western tower and gingerbread trim.
As one of west-central Florida's oldest towns formed by white settlers, Brooksville has a large concentration of structures from the 1870s and 1880s, Badgley said. 
Remnants of the city's pre-Civil War origins remain: a Confederate monument before the county courthouse; the city's name itself from U.S. Rep. Preston Brooks, who bludgeoned an abolitionist senator in Congress with a cane in 1856, the same year Brooksville became the seat of Hernando County.
The Burnell Barnett House in Brooksville, courtesy of Ken Badgley
The city's founding families settled here in the 1840s, establishing plantations dependent on slave labor. Some of the buildings from that era – and many more from the late-1800s and early 1900s – are still standing. 
Through grass-roots efforts, volunteers at the preservation society have created walking tours to help bring attention to the city's architectural history and awareness for more restoration.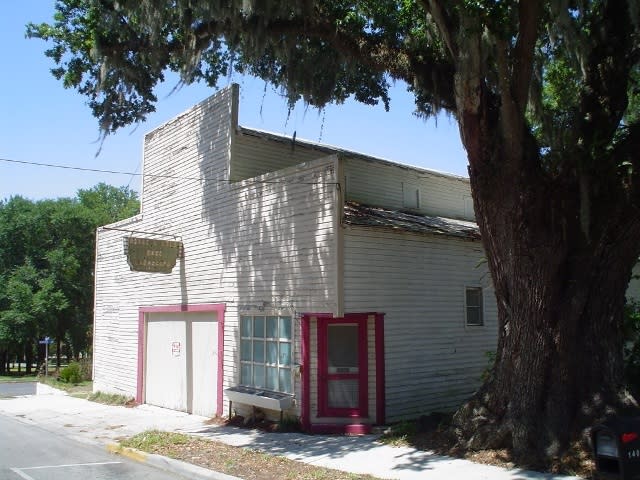 The livery stable, courtesy of Ken Badgley
Down the block from the Jennings estate, Badgley – the group's architectural specialist – notes a carriage house or livery stable likely dating to 1887. It's a white clapboard structure now converted to a two-sided garage.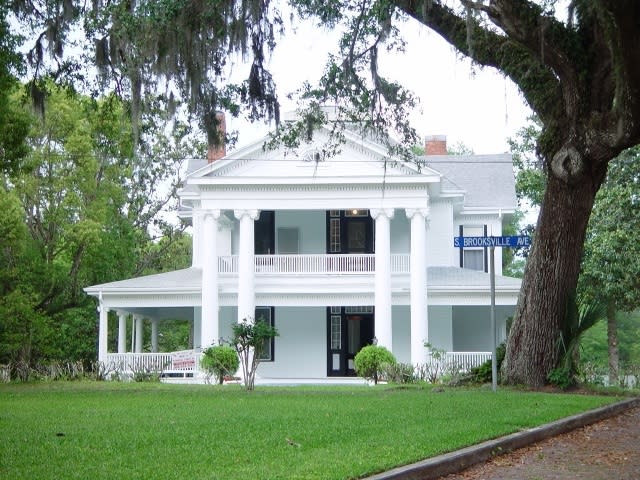 The Cook-Coogler house, courtesy of Ken Badgley
He passed the Cook-Coogler house, dating from before 1917, originally a one-story Florida Cracker house converted to a two-story bungalow in the 1920s or 1930s. And a completely original Victorian house dating to 1887 – the Burnell-Barnett house – with a two-story veranda or porch wrapping around three sides.
There are Classical Revival homes with porch columns and balustrades; the old city hall; the 1885 brick Grimsley country store; a "shanty" possibly dating to the 1840s; service stations from the 1930s, and many others dotting a dozen streets and avenues around historic downtown Brooksville.
To schedule a walking tour of Brooksville or for more information, call Mary Moses at (813) 470-0074; Jan Knowles at (352) 279-5182 or Jon Yeager (352) 608-4221.

Some sights to see…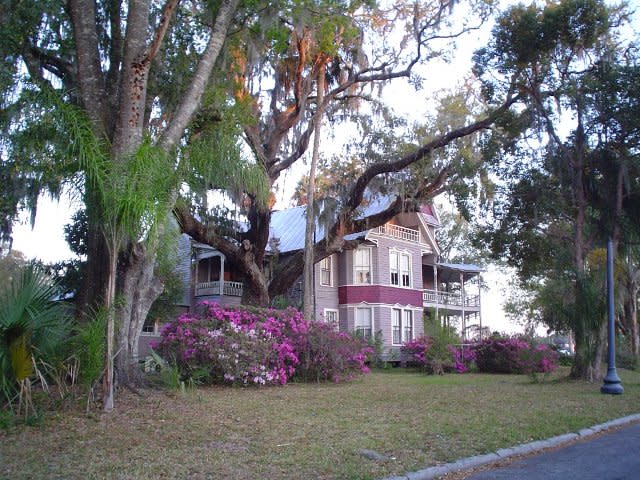 The May-Stringer House, courtesy of Ken Badgley
The May-Stringer House is home to the Hernando Heritage Museum at 601 Museum Court in Brooksville. This four-story, 12-gable Victorian house from the mid-1800s is on the National Register of Historic Places. Admission: $5 for adults; $2 kids 6-12; free for smaller kids. Call: (352) 777-0129 or visit hernandohistoricalmuseumassoc.com/. 
The Brooksville 1885 Railroad Depot Museum at 70 Russell St. includes a restored 1800s dining car; a 1925 fire truck; and displays of items used in early Florida Cracker life. Admission: $3 for adults; free for children. Call: (352) 799-4766.
Fort Dade Avenue is one of Florida's scenic Canopy Roads – rolling under interlacing grand live oaks and stately pine trees. It runs north of and parallel to U.S. 41 or Jefferson Street through downtown Brooksville. Go west and drive toward Old Spring Hill and the original antebellum homestead of the Lykes family, which became one of the nation's largest landowners and business interests from cattle to citrus juice. Also along this road where it bends toward State Road 50 are three cemeteries, including the Spring Hill African-American Cemetery, where slaves and prominent black residents were buried dating back to the Civil War.  
Chinsegut Hill Manor House has undergone massive restoration following a $1.5 million state grant in 2013. Listed on the National Register of Historic Places, it sits on 114 acres on one of the highest elevation points in the state, about six miles north of Brooksville on land originally developed in the mid-1850s as part of a sugar plantation using slave labor. Later estate owners hosted everyone from Thomas Edison to Helen Keller to Marjorie Kinnan Rawlings. The nonprofit Friends of Chinsegut Hill has worked to restore the property and unearth its history through archeological exploration encompassing ruins of field houses and slave quarters. Call (352) 799-5400 or visit friendsofchinseguthill.org.
Photos courtesy of Ken Badgley