Here are just a few of the beaches and parks in Florida that offer accessible activities…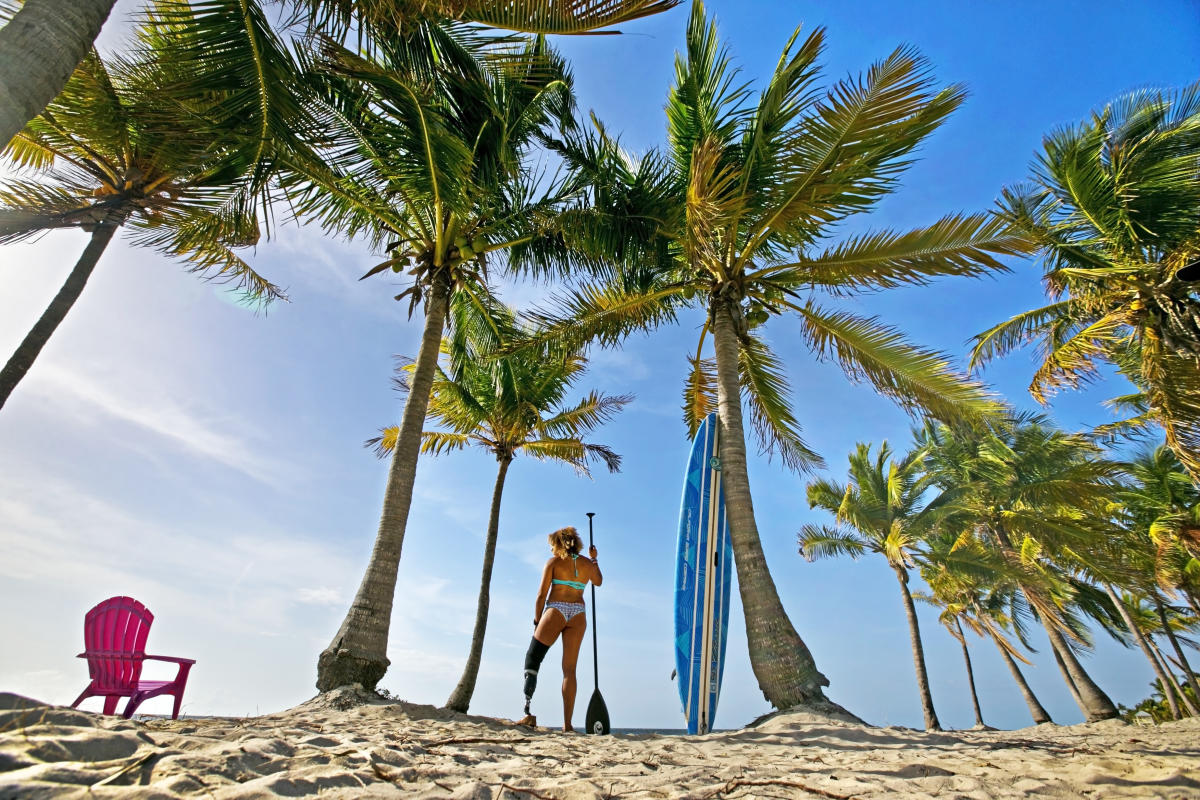 Non-motorized beach wheelchair rentals at Crandon Park Beach on Key Biscayne and Haulover Beach in Miami allow easy travel over not-so-easy terrain thanks to big balloon wheels.  These two barrier island beaches show off the best of tropical Florida, not the least of which is the glittering blue water of the Atlantic on one side and Biscayne Bay on the other.
And here's the good news: beach wheelchair rentals are free at Crandon and Haulover, though you'll have to leave something of value as a deposit (keys, identification cards, money) to ensure you'll return the chair. It's best to call ahead and check availability, too. If the staff knows you are coming, they will have a chair ready.


Oscar Scherer State Park is a natural pine and palmetto oasis in densely populated Sarasota County. As development sprouts around it, Sarasota to the north, Venice to the south and the towns of Osprey and Nokomis even closer, Oscar Scherer is a reminder of what this part of Florida used to look like.
The now two-square-mile park started with just 460 acres when Elsa Scherer Burrows left the family ranch to the state in the mid-1950s in memory of her father, Oscar Scherer. Adjoining lands were added in subsequent decades to make the park what it is today.
The park's accessibility to travelers with mobility challenges makes it a worthy stop in a visit to Sarasota County. (Also attractive is that nearby Siesta Key beach, named the No. 1 beach in America by Dr. Beach, aka Dr. Stephen P. Leatherman. All-terrain wheelchairs provide access to the beach and those who don't own can rent them for the day.)


Many say there are no seasons in Florida, but you'll find distinct changes in landscape at Corkscrew Swamp Sanctuary, a Southwest Florida gem maintained by the Audubon Society. The rainy season brings more swampy land and animals, plus it connects the area with adjacent wetlands. The winter weather is so pleasant that you might find a traffic jam or two on the boardwalk. And the dry spring changes the landscape again, drying up some ponds. Small fish remain in their small worlds until the rains come again.
Corkscrew and the Everglades ecosystem can be enjoyed by traversing the 2.5-mile elevated boardwalk through pine flatwoods and then through the wet prairie, around a marsh, and finally into the world's largest remaining virgin bald cypress forest at 700 acres. This watershed in the Western Everglades is 13,000 acres of natural Florida 15 miles east of Interstate 75 in Collier County and 45 miles northeast of Naples. Development is all around this oasis.
The visitor center has wheelchairs (and strollers) to loan and those who have their own will find the journey along Corkscrew's boardwalk quite pleasant, if not utterly amazing.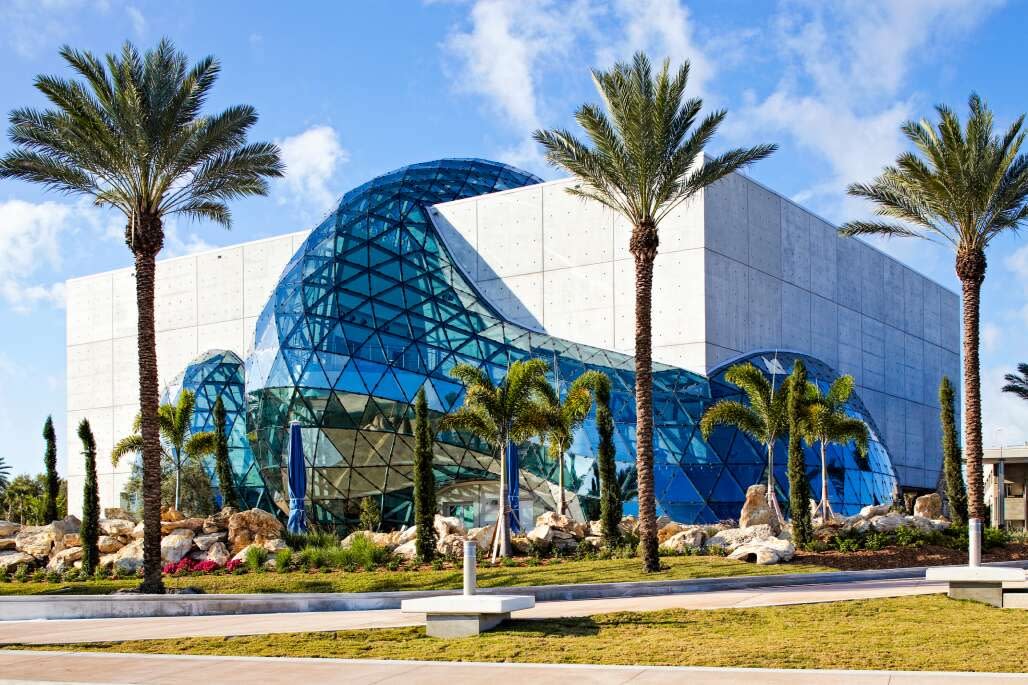 The Dali Museum in St. Petersburg, FL.

St. Petersburg has plenty of shine these days. A burgeoning arts community, a funky boutique scene, and multiplying craft beer breweries have brought national attention to the once-sleepy city on Tampa Bay.
The Sunshine City, pop. 255,000, barely sleeps anymore and there's hardly a weekend where there isn't a festival, 5K charity run, art show, craft fair, professional soccer game or concert that bring folks to the downtown waterfront. And if it's not an organized activity, the growing dining and shopping scene fills the sidewalks along Beach Drive NE with locals and visitors.
The one-mile stretch from the Dali Museum north to the historic Renaissance Vinoy Resort is negotiable by wheelchair or a traveler with a guide dog. Trek north on Bayshore Drive NE to the Vinoy, and then return via Beach Drive NE, cutting back toward Bayshore at the St. Petersburg Yacht built in 1917 and one of the last remaining historic buildings downtown. At night, the trees of North Straub Park glitter with twinkle lights and paved walkways winding through the picturesque city oasis. It's nice during the day, too.
General parking is tough downtown but handicap spots remain attainable in both public and private facilities, and on the street.
The sugar-white sand and emerald green water on the beaches of Pensacola are accessible to all thanks to the installment of five Mobi-mats on Pensacola Beach. Mobi-Mats are a non-slip matting laid down over the sand that provides grip and easy access for wheelchairs, strollers, and pedestrians on unstable surfaces. Here's where you can find them.
Casino Beach: A Mobi-Mat is located east of the Public Safety Building, and one is stationed west of The Dock Bar.
Park West: One mat is located on the sound (north) side near the two pavilions.
Moms Beach (Quietwater Beach): A Mobi-Mat is stationed near the lifeguard tower.
Boardwalk Beach: A mat is located just east of the Quietwater Beach shell.
Baby Beach: A Mobi-Mat is located off Avenida 18 on the sound side.
Also, beach wheelchairs, both electric and traditional, are available for rent from several vendors along Pensacola Beach.
Here are just a few of the beaches and parks in Florida that offer accessible activities… Crandon Park Beach and Haulover Beach
We come across lots of weird and wonderful Florida facts. So we thought we'd share a few. OK, more than a few. You never know ... these Florida...
By Amy Shepherd Nance Here are 10 reasons why the Bradenton area is unbelievably romantic. A little magic isn't difficult to come by in...