Sailors and boaters have their pick of great Florida boating destinations on the Atlantic, the Gulf and in the Florida Keys.
 
By Terry Tomalin
This is no idle boast: Florida is the boating capital of the world. There are more registered boats here than any other U.S. state. Plus, at least 100,000 out-of-state boats ply Florida waters on any given day. So if you are planning a boating vacation this year, be sure to explore these destinations, known as having the best boating in Florida.

1. Jacksonville/St. Augustine
Jacksonville is the gateway to the St. Johns River, the state's major interior waterway. With first-class marinas, ship supply stores, fine hotels and five-star restaurants, this Atlantic Coast city caters to the boating crowd. There is ample dockage downtown, including the Metropolitan Park Marina – a real plus because the city hosts a number of waterfront festivals.

Linger for a few days and check out Jacksonville's world-class fishing. The city hosts one of the largest kingfish tournaments in Florida and the shallow-water fishing in the salt marshes is as good as it gets.

About 40 miles to the south, St. Augustine is the nation's oldest city and first seaport. Dock at the City Marina and take off on foot to explore the 144-block historic district and the Castillo de San Marcos, a Spanish fortress built in 1672.
2. Fort Lauderdale/Miami
This area certainly deserves its place on the list of best boating in Florida. Greater Fort Lauderdale has been called the Venice of America (more than 300 miles of inland waterways) and the Yachting Capital of the World (more than 40,000 yachts call it home). The annual Fort Lauderdale International Boat Show is one of the largest events of its kind in the world.

The Gulf Stream runs just a few miles offshore, luring blue-water anglers. The nearby coral reefs are a haven for scuba divers.

If you are planning a crossing to the Bahamas, Fort Lauderdale is a good launching point, as is Miami, about 25 miles to the south. Many South Beach boaters run the 50 miles out to Bimini and come back the same day.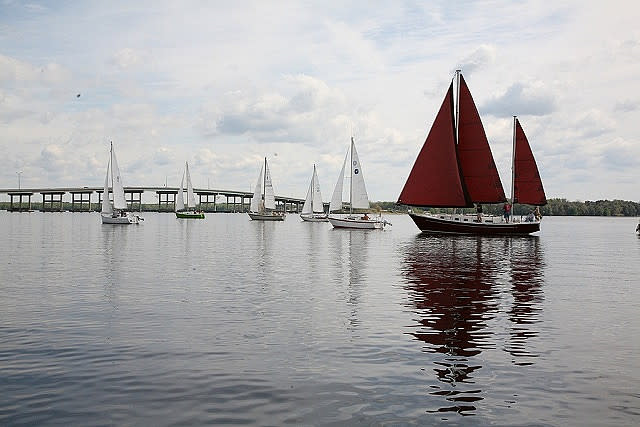 3. The Florida Keys and Key West
Stretching from Biscayne National Park in the north more than 125 miles to Key West to the southwest, the Florida Keys is one of the great Florida boating destinations and has more opportunities for boaters than any other place on earth. Fish, dive or just cruise the islands, seven days a week, 12 months a year.
Each island or key has its own personality. Scuba divers love Key Largo for its reefs and shipwrecks. Deep-sea fishermen from around the globe head to Islamorada, the Sportfishing Capital of the World.

But the crowning jewel of the island chain is Key West, the Southernmost City and home of the best sunset in the continental United States. From Key West, it is just a 70-mile crossing to Dry Tortugas National Park, home to Fort Jefferson, and its world-class snorkeling.  This port town inspired Jimmy Buffett to sing, so be sure to swing by Margaritaville for a cheeseburger in paradise.
4. Tampa/St. Petersburg
Tampa Bay, the state's largest estuary, has some of the best boating in Florida. Downtown Tampa has fine restaurants and hotels, as does the City of St. Petersburg, a short cruise across the bay.

But it is the hidden bays and rivers that are the true treasure of this metropolitan boater's paradise. Anchor up near Beer Can Island or Shell Key or cruise out to Egmont Key and explore the ruins of a 19th Century army fort.

It is just a short run up Pinellas county's sugar-sand beaches to Caladesi Island, one of a few state parks that has docking facilities, and nearby Three Rooker Bar and Anclote Key, two wild barrier islands that are both havens for boaters. Head south out of the mouth of Tampa Bay and it is just a short run to Anna Maria Island and Sarasota, another Gulf Coast city that caters to cruisers.


5. Pensacola/Fort Walton Beach/Destin
Pensacola, a city with a sailing tradition that dates to the Spanish explorers, and the nearby towns of Fort Walton Beach and Destin, often called the "World's Luckiest Fishing Village," are the jewels of Northwest Florida.

The Emerald Coast has beautiful beaches, sheltered harbors and some of the best deep-sea fishing in the world, making it one of the top Florida boating destinations.
Pensacola Bay area has been lauded in many national sailing magazines as one of the best ports in the Gulf of Mexico for cruisers. Destin, home of Florida's largest fishing fleet, is popular with blue-water fishermen.

Head out of Destin's East Pass and within 10 miles you can be in 100 feet of water where the red snapper swarm over artificial reefs and wrecks. And while you are there, head over to Panama City Beach and its 27 miles of white-sand beaches.
When you go...
 
Anyone born on or after Jan. 1, 1988, who operates a vessel powered by 10 horsepower or more must pass an approved boater safety course and have in his/her possession photographic identification and a boating safety education identification card issued by the Florida Fish and Wildlife Conservation Commission. Visiting boaters are exempt if they have taken an approved boater safety course or equivalency examination from another state. If you plan on fishing, make sure you check Florida fishing license requirements beforehand.