By Tom Scherberger

Palatka can be easy to overlook. It's 20 miles from the nearest interstate exit, far from any theme parks or outlet malls. You have to go out of your way to get there. Modern Florida seems to have passed it by.
And that's the charm of the place.
The Timucuan Indians called this little bend in the St. Johns River Pilo-taikita, or cow's crossing.

The river still dominates the landscape and is a major draw for visitors, who spend lazy days on pontoon boats, fish for bass and shrimp and canoe or kayak its tributaries.
But there's a lot more to Palatka, with diversions steeped in history and nature. Here are six ways to enjoy a weekend getaway.
Historic Homes

Palatka boasts one of the largest concentrations of 19th and early 20th century houses in Florida, clustered mainly in two neighborhoods north and south of downtown. The North Historic District includes 76 homes, with styles ranging from Colonial Revival to Craftsman bungalow. Maps offer brief descriptions of notable houses.

The most impressive house in the district is now a museum. Built in 1854, the Antebellum Bronson-Mulholland House, surrounded by magnolias and moss-draped live oaks, is filled with period furniture. Visitors can take free, guided tours Thursday through Monday, from noon until 5 p.m.
City of Murals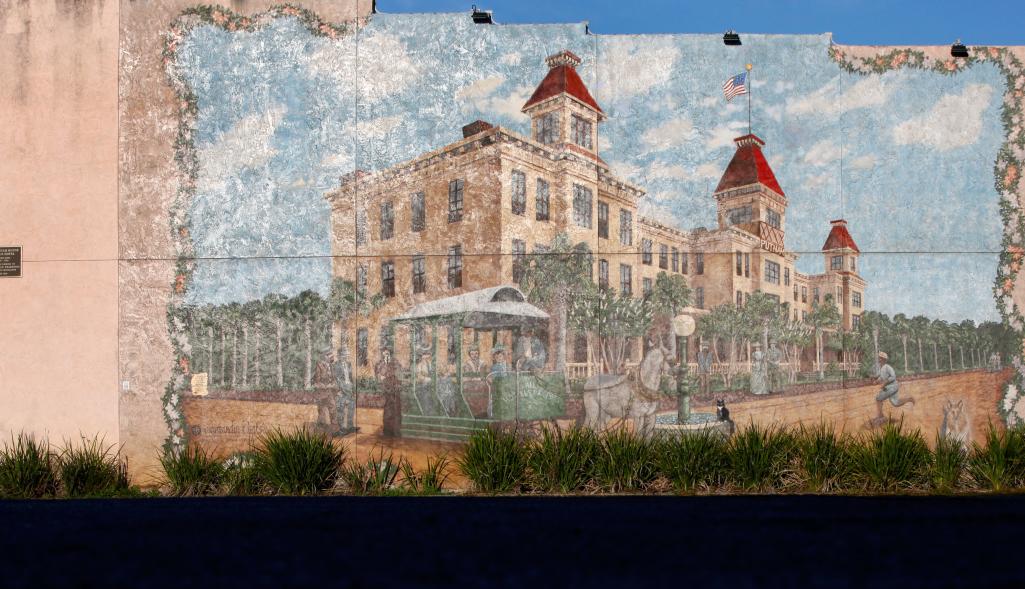 Long before they began popping up in Miami's Wynwood and downtown St. Petersburg, murals began appearing on buildings in historic downtown Palatka. Stop by the Putnam County Chamber of Commerce for a free map to walking or driving tours of the more than 30 murals, which tell the history of Palatka by myriad artists and styles.
Many of the murals are along side streets off St. Johns Avenue. One shows evangelist Billy Graham, who was baptized and gave his first sermon in Palatka. Another, titled "Bygone Days," shows people in 19th Century dress socializing on a balcony. "Harlem Nights in Palatka" recalls the city's rich African-American history. Other murals depict the beauty of the area's natural scenery.
William Bartram Trail

Naturalist William Bartram made Florida famous. In his work Travels, Bartram gives a vivid account of journeying through the wilds of Florida in the late 1700s. He captivated the world through poetic language and beautiful drawings of the flora and fauna. He sparked an interest in Florida that has never died.
Bartram's travels centered around Palatka, along the St. John's and Ocklawaha rivers. Today, visitors can follow his path by car, canoe, bike or hiking trails. Many areas still retain the untouched beauty Bartram found. See bartram.putnam-fl.com for details.
Ravine Gardens State Park

You don't find many ravines in Florida, and certainly none that have been turned into a nature park. Except for Ravine Gardens in Palatka, Florida. Built by the Works Progress Administration and Civilian Conservation Corps in the 1930s, the park includes hiking trails, two suspension bridges and a guided-tour tram ride that takes visitors past 100,000 of azaleas planted during construction. Their peak coloring is in February or March, during the annual Florida Azalea Festival (begun in 1938) and the crowning of the Azalea Queen.
Baseball sidenote: Babe Ruth spent time in Palatka in 1940 and '41 as a baseball instructor at the ballpark next to the ravine, where the semi-pro Azaleas played. John Henry "Pop" Lloyd, whom Ruth called the best baseball player he ever saw, was born in Palatka and played shortstop and managed in the Negro Leagues.
Dining
Angel's Drive Inn: At the oldest diner in Florida, you'll find curb service, booths and a long counter inside, with great cheeseburgers, fried creamed corn and a loyal local following.
Corky Bell's Seafood: Corky's offers dining indoors under a vaulted ceiling or outdoors on a terraced deck with a great view of the river. Famous for their hush puppies, pound cake and generous portions, the menu is deep and the quality is high.
Wineries
While away an afternoon at the vineyards around Palatka. Muscadine is the grape of choice, and fruit wines are also common.
Tangled Oaks Vineyard: A 20-minute drive west along picturesque State Road 100,  Tangled Oaks has a tasting room and gift shop featuring local artisan works. You can take the five-minute "nickel tour" to learn how the wines are made. A room filled with open fermenters gives a scent of the process.
Royal Manor Meadery and Winery: It's a high falutin' name for a humble operation. Owner Joe Pasco, a retired firefighter who staked his pension on becoming a winemaker, might greet you as he returns from the vineyard, dogs yapping at the tires of his car. His wines, ciders and meads are winning national awards and his affable nature wins fans in his tasting room.
Log Cabin Winery: Located south of Palatka in Satsuma, Log Cabin hosts a wine festival every August. The rest of the year you can pick your own grapes from the vineyard, sample wines in the tasting room and browse the gift shop, stocked with jellies, sauces and ciders in addition to wines.