Florida's flea and farmers markets are terrific alternatives to traditional shopping malls. Read on to discover some favorites, or skip straight to the List of Florida Flea & Farmers Markets by Region.

By Paula Lewis
The great thing about Florida's flea and farmers markets is that you never know what you're going to find. They're a terrific alternative to your traditional shopping mall. 
Let's delve into these unique shopping opportunities and see what bargains await visitors and residents in the Sunshine State... 
One of the vendors at the Daytona Flea & Farmers Market is Oscar's Estate Jewelry, where you'll find classic pieces such as a pre-owned Rolex watch in mint condition, without the original price. You can buy and trade gold, silver, platinum, diamonds, fine watches, gems and so much more. Practice your bargaining skills because you could walk away with a good deal and an exotic piece of estate jewelry. Open Saturdays and Sundays. 
Speaking of exotic, as you walk into Primitive Expressions Imports at the Daytona Flea & Farmers Market, you'll be transported into a global shopping safari, where you'll find hand-selected works of art from around the world at unbelievable prices. Here, you'll find Indonesian wood carvings, tiki masks, tribal artifacts and Haitian metal art pieces. 
Continuing our journey of the east coast of Florida, the Fernandina Beach Market Place in Fernandina Beach is a place where the locals like to spend their Saturday mornings. The market, located in the city's historic district (worth a trip just by itself), features farm-fresh produce, organic products, specialty foods, gourmet baked goods and tropical and landscaping plants, such as orchids, herbs and garden flowers.

St. Augustine Amphitheatre Farmers Market, in St. Augustine, is held every Saturday morning, rain or shine, at the St. Augustine Amphitheatre on A1A South. You'll find a tempting array of fresh produce, baked goods, pastries, herbs, roasted peanuts, bonsai, datil sauces (a hot sauce made from a locally grown pepper) and more. A number of local artists and handmade crafts artisans are invited to sell their wares, and fresh seafood is sold in season.
More than 80 acres of garage sales, a farmer's market, an international bazaar and a county fair make up the South's largest flea market at Swap Shop & Thunderbird Drive In, just west of Fort Lauderdale. You don't want to miss this shopping experience with 2,000 vendors; the Swap Shop provides the ultimate in family fun with a carousel, carnival rides and a daily circus.  The huge drive-in theater shows new releases on 14 screens. The operation is open 365 days a year.
Visitors from all over the world also have discovered the shopping delights of the Festival Marketplace in Pompano Beach, with more than 500 shops in an indoor market setting. Cheap & Chic has a great array of the latest women's clothing at great prices. 
The Saturday Morning Market in St. Petersburg was designed to create a strong sense of community for St. Petersburg's residents and to be a place visitors can experience Floridians' way of life. You'll discover a distinctive selection of goods here on the St. Pete waterfront, including fresh produce, prepared foods and baked goods, as well as live music every week, October through May.
One of the vendors you should visit is Flaming Pearl, where designer Tamara Leavy showcases her own line of handmade batik clothing for men, women, girls and plus sizes, created with cloth from Indonesia. Choose from sarongs, dresses, tops, wrap skirts and more.
In Fort Myers, the giant Fleamasters Fleamarket has more than 900 stores with Florida souvenirs, home decor, antiques and collectibles, beachwear, jewelry and more.
In Orlando, the Orlando Farmers' Market held every week in Lake Eola Park.  Authentic ethnic food, vintage clothing, plants, paintings and sculptures are also among the offerings.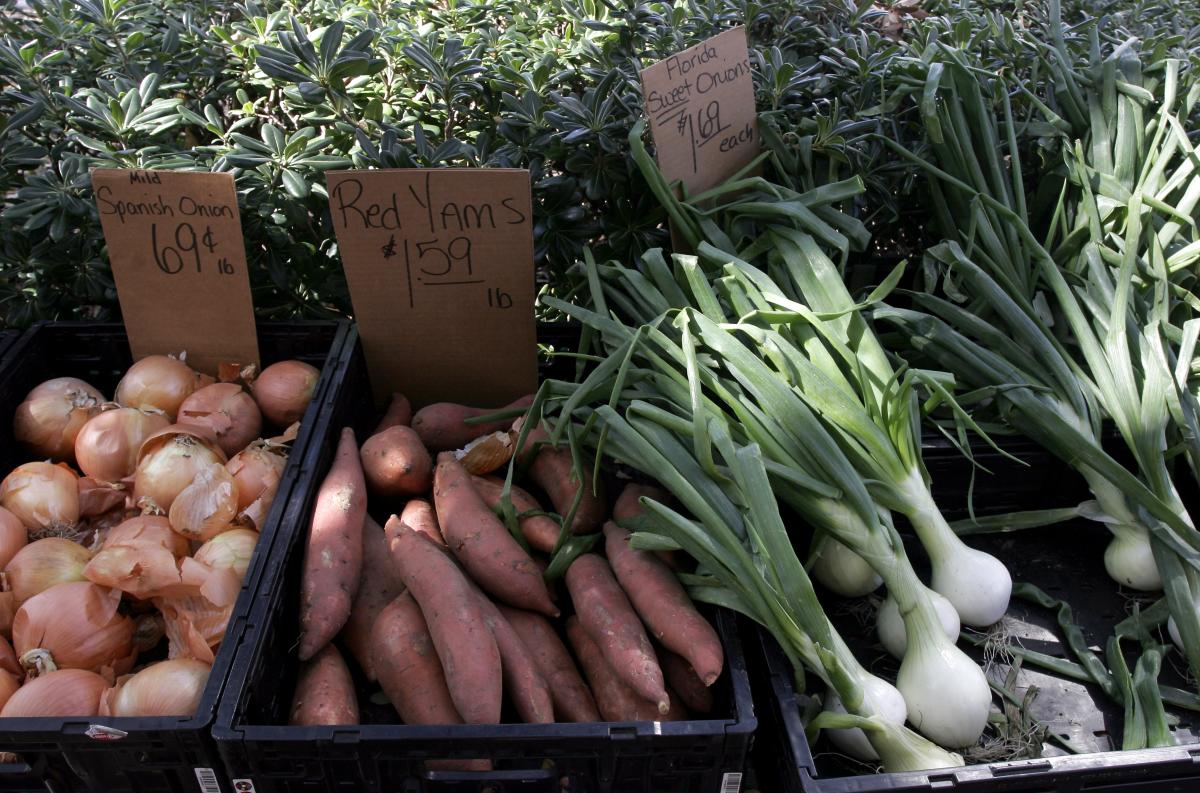 Fresh produce for sale at the Saturday Morning Market in St. Petersburg.
- Ted McLaren
Florida Flea & Farmers Markets by Region
East Coast  
West Coast  
Central Florida