By Ashley Brooke
My husband and I recently made a pact to plan a weekend getaway at least once a month. We both have the tendency to work through the weekends, so it's important that we set aside time to explore new areas and spend quality time together.
We're lucky enough to live in Florida, one of the world's most beautiful areas, so sunshine and adventure are always nearby.
Recently we decided to head to the private South Walton beach communities of Rosemary Beach and Alys Beach for a romantic weekend getaway. This area of Northern Florida offers a world-class vacation experience unlike anywhere else in the country. Here are some of the best places to stay, eat, shop, and play in this part of the 30A.
Where To Stay

If you're looking for an unforgettable weekend getaway in South Walton, The Pearl Hotel is my top recommendation. This stunning boutique hotel resides in the exclusive Rosemary Beach community. While the hotel features incredible dining options and an elegant spa, it's also conveniently located next to Rosemary Beach's top restaurants and shops. The Pearl is also only a few steps away from the stunning Gulf of Mexico beach.
The rooms at The Pearl mix classically elegant decor with modern luxuries. In addition to cable TV, every room features an Apple TV pre-loaded with the hotel's Netflix account. You can also use the device to sign into your own media accounts. There's a secondary TV placed inside the bathroom's mirror, so you don't have to stop your movie marathon while you're brushing your teeth in the morning.
One of our favorite features of the room was the doorbell system. When you're hoping to relax in your room without interruption, simply click a button by your front door. A red light outside your room will alert staff that they shouldn't disturb you. Similarly, the second button will engage a green light to signal the staff that your room needs to be serviced. Combined with the beautiful decor and comfortable furnishings, these little details made our weekend getaway incredibly relaxing.
While we enjoyed the technological features of our room, the view from our balcony was clearly the star of the show. The blue sky, ocean waves, and the cool breeze from the Gulf of Mexico were mesmerizing, and we found ourselves staring out the window in silence for hours at a time.
While the interior of the hotel is amazing, The Pearl's pool area is a true showstopper. The graphic black-and-white awnings and bright yellow umbrellas provide a perfect environment for lounging by the pool and enjoying the sunny Florida weather.
My husband and I both loved our stay at The Pearl, and we're already planning a trip back to the area. I'd also recommend looking into the Watercolor Inn and Resort in nearby Santa Rosa Beach. This resort is a sister company to The Pearl, and we had quite a few locals tell us that it was equally impressive.
What To Do 
While it was tempting to relax all day inside our hotel room, the South Walton area is filled with activities fit for every personality type.
Spend a Day at the Beach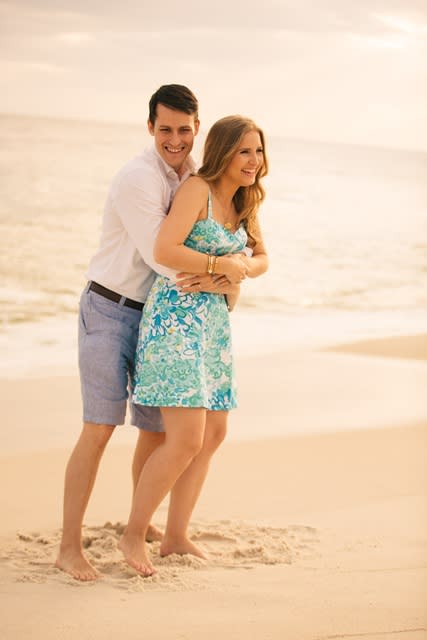 The South Walton area abounds with private beaches brimming with natural beauty and their own unique personalities. We enjoyed lounging beneath an oversized umbrella on Rosemary Beach during the day, but there are beach volleyball courts and water sports available if you're looking for an athletic activity. The sunsets along Rosemary Beach will leave you speechless, so don't forget to take an evening stroll along the beach. The quiet beach atmosphere is incredibly peaceful, and the glistening water and amber sunlight provide the perfect backdrop for a romantic walk with your loved one.
Enjoy a Bike Ride by the Water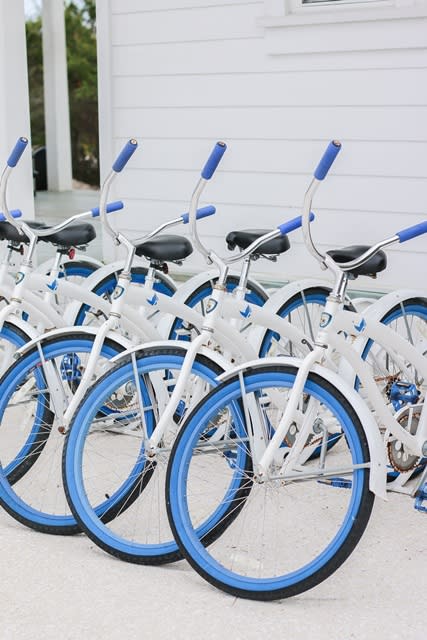 If you're looking for a fun way to fit in a workout and explore the area at the same time, consider renting bikes at the Alys Beach Bike Shop. Alys Beach is only a mile from Rosemary Beach, and this picturesque neighborhood features stunning modern architecture. A casual ride around the neighborhood is the perfect way to see the local sights, and you'll also enjoy an unforgettable view of the beach.
Wander the Streets of Alys Beach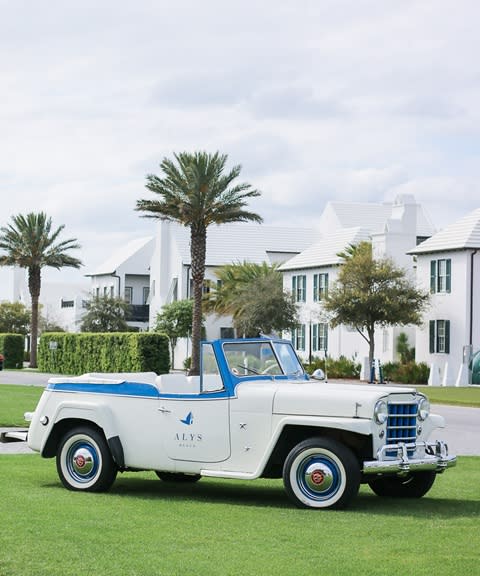 Alys Beach's views are idyllic. The bright white buildings combine with impeccably green grass and lush palm trees to create a community so unique that you might forget you're still in Florida. While you can cruise down the street in a rented bike, my husband and I enjoyed wandering around Alys Beach on foot.
Where to Shop 
Rosemary Beach and Alys Beach are both filled with boutiques you won't find anywhere else. These shops are the perfect places to find vacation essentials and one-of-a-kind souvenirs.
Tracery Interiors
Tracery Interiors is a Rosemary Beach shop overflowing with coastal-chic home decor items. This store is stocked with everything from beachy statement pieces to door mats featuring hilarious text such as "the neighbors have better stuff."  Tracery's impeccable, magazine-worthy styling and distinctive merchandise will make you want to redecorate your entire house.
Outpost
If you're looking for fun clothing and colorful home decor, head to Outpost in Inlet Beach. Outpost features hand-picked clothing, accessories, and home decor items with a distinctive 30A flair, and it's also home to the area's cutest coffee shop. You'll love sipping on a smooth cappuccino while you wander around this stylish shop.
The Hidden Lantern
The Hidden Lantern bookstore in Rosemary Beach is the perfect afternoon stop for bibliophiles. If you're a bookworm like me, you'll quickly get lost in The Hidden Lantern's carefully curated bookshelves. The store features a comfortable sitting area to curl up and read a book, or you can grab a few novels and head to the nearby beach.
Otium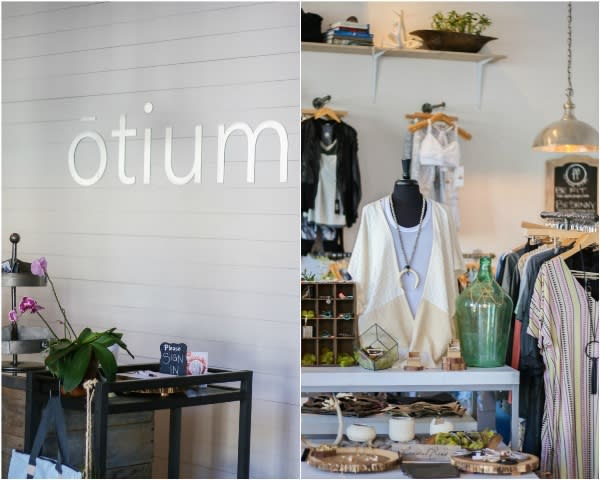 Otium is a fitness and wellness studio that is also home to a boho-inspired clothing store with a beachy twist. If you're looking for a quick workout during your vacation, Otium also offers yoga, high-intensity BarreAmped, and TRX Suspension Training class in a non-intimidating atmosphere. This store will help you look and feel your best during your romantic weekend getaway.
Curate
The 30A area takes great pride in its local artists, and Justin Gaffrey's pieces are featured in stores, restaurants, and hotels throughout the South Walton area. You'll be impressed with the art pieces and eclectic home accessories available for purchase.
Where To Eat
South Walton is filled with outstanding dining options, so you'll have no problem finding incredible food for breakfast, lunch, and dinner. Whether you're searching for a quick cup of coffee or a romantic dinner spot, I've rounded up a few of the area's best restaurants.
Havana Beach Grille at The Pearl
For a delicious brunch or dinner option with an amazing beach view, head to the Havana Beach Grille at The Pearl. Their menu features coastal Southern favorites with a Cuban twist, and both the indoor and outdoor dining rooms are absolutely beautiful. Inside the restaurant, you'll find a jazzy lounge inspired by the streets of Havana, and the outdoor seating overlooks the private Rosemary Beach.
Outpost
In addition to its adorable clothing and home decor store, Outpost features incredible artisan coffee and snacks in an Instagram-worthy setting. The staff will artfully prepare your latte and your avocado toast while you explore the store, and you're guaranteed to be impressed by the sips, snacks, and shopping.
Caliza Restaurant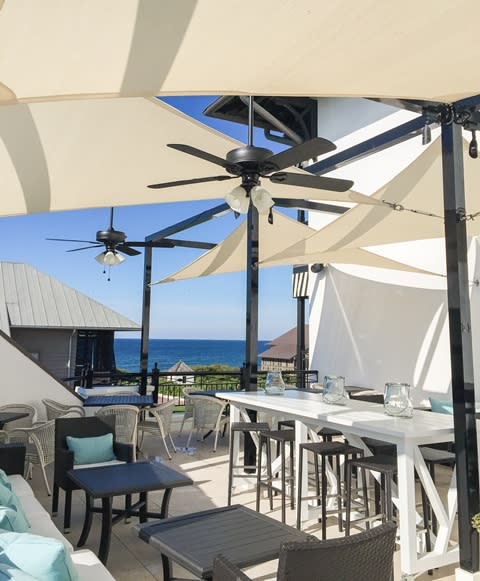 Caliza Restaurant in Alys Beach is an absolute gem. Every seat in the restaurant overlooks the gorgeous Caliza pool, and the menu features artisan dishes prepared with seasonal and locally sourced ingredients. Both the healthy and indulgent items at the restaurants are equally delicious, and the beautiful environment and world-class service makes every bite of your meal even more enjoyable. This restaurant is the ideal location for a romantic dinner or happy hour snack.
Havana Beach Rooftop Lounge
If you'd like to take advantage of the Rosemary Beach weather, head to the Havana Beach Rooftop Lounge at The Pearl Hotel for happy hour, lunch, or dinner. The lounge overlooks The Pearl hotel pool and the Gulf of Mexico, and you'll enjoy snacking on tasty small plates in this bright and airy setting. This restaurant is the perfect place to have a relaxed meal, and you can enjoy the weather lounging in a hammock, sitting in a private cabana, or snuggling by the fire pit.
The Donut Hole
If you have a sweet tooth, you must visit The Donut Hole. This local favorite has several 30A locations, and they offer delicious homemade doughnuts in a casual setting. The Donut Hole also serves a tasty breakfast at low prices. After your meal, head outdoors to play cornhole or to sit and relax on the porch. Don't forget to pick up a few extra donuts for the road.
Fonville Press
Fonville Press is a classy coffee shop where you can enjoy a handcrafted coffee or herbal iced tea in a beautiful atmosphere. The cozy courtyard is the perfect place to read a book, or you can sit outside the front entrance to look toward the ocean. The peaceful Alys Beach setting and delicious drinks have made Fonville Press a local favorite you won't want to miss.
Go
If you're looking for a world-class romantic getaway, I highly recommend looking into the South Walton beaches. Florida's 30A communities offer natural beauty, outstanding dining options, and fun activities 365 days a year For more information, check out Visit South Walton.