By Chelle Koster Walton
 
The first time a half-ton manatee came up to nuzzle my snorkeled face, well, yeah, I was inclined to back paddle. I'll admit it: The pig-nosed face is hardly the prettiest I've nuzzled. In the end, though, I just had to laugh through my snorkel at the tickle of its whiskers and the fleshy nudge that felt playful, like that of a dog begging for a scratch behind the ears.
The babies are the most curious and likely to approach snorkelers. One juvenile took my hand between its two fins and pressed it to its chest. Beneath its gray, burlap skin I could feel its heart beating.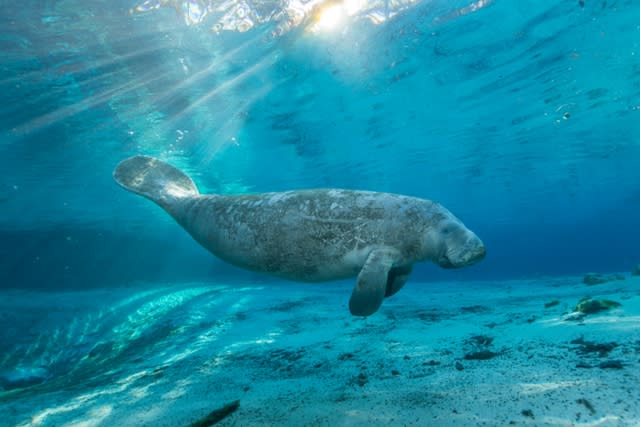 Carlton Ward Jr. for VISIT FLORIDA
"At the start, the size of a manatee is a bit intimidating, but observing them is certainly an authentic Florida experience that will always be a treasure for me," says Robin Draper, an avid paddler and AuthenticFlorida.com blogger.
To get close enough to pet and scratch – with only one hand allowable – an animal of that girth was life-changing for me.  
Like the manatee, things move slowly on 7-mile Crystal River and its cousins, the Homosassa and Chassakowitzka. Safe from any metro rat race, the rivers coax out fishing poles, kayaks, and attitudes pre-WiFi.
Book with Bird's Underwater Dive Center in small-town Crystal River for manatee snorkeling tours around the refuge. Best time to see manatees is late November through early March.
Bird's also does fishing excursions and, in summer (June 17-Sept. 24) snorkel scalloping trips. Draper said she believes the best kayaking is on the wild Chassahowitzka River through the eponymous national wildlife refuge -- accessible only by boat and a gold mine for birders. For kayaking or paddleboarding among the manatees, see Aardvark's Florida Kayak Co. in Crystal River.
If you want to spot manatees without getting wet, visit Homosassa Springs Wildlife State Park in even smaller town Homosassa. The park has an underwater observatory and does boat tours and manatee presentations waterside. Three Sisters Springs is Florida's only spring accessible by land, so you can walk the boardwalk for a peek at the bulbous, prehistoric marine mammals.
A different site along the Crystal preserves the manmade rather than the wild. Crystal River Archaeological State Park encircles pre-Columbian burial and midden mounds. You can climb the 55 steps to the top of the tallest. Nearby Crystal River Preserve State Park affords further fishing, kayaking, and hiking adventures on the river.
When it comes to down time, you'll find plenty of places to chill along the rivers. Dine waterside at Charlie's Fish House Restaurant & Seafood Market in Crystal River, where you know it's fresh. Don't miss the smoked mullet spread, a local specialty.
A number of hotels in Crystal River sit on the water. A favorite, gracious Plantation on Crystal River, has its own marina and offers scalloping and manatee excursion packages. Its West 82 Bar & Grill will cook up your scallop catch to your specifications.
In Homosassa, Riverside Crab House at Homosassa Riverside Resort is known for its fresh blue crabs and view of monkeys cavorting on an island in the river across from its Monkey Bar. Most of the resort's suites face the water, and the marina offers a full complement of boat rentals and tours.
Hard-core fishing types choose MacRae's of Homosassa, a no-frills motel where the bait house and watering hole comprise the essential amenities. The Chassahowitzka River Campground welcomes RVs and tent campers with boat ramps and a way-off-the-beaten-path rural throwback.
"This is really Old Florida," Draper said. "That's why I like it."
For more information about and around Florida's rivers, see the whole Along Florida's Rivers series. 
Homosassa
4150 S. Suncoast Blvd. (U.S. Hwy. 19)

(352) 628-5343