Bass fishing in the Big O
Here's what to do in and around the towns encircling Lake Okeechobee.
 
Sometimes referred to as Florida's inland sea, Lake Okeechobee is central to a region of Florida historically known for its agriculture, but in recent times also equated with superior fishing, boating and trails.
The second-largest freshwater lake entirely within U.S. boundaries, it is contained by the Herbert Hoover Dike, built in 1928. Surrounding the dike, rich earth supports a lucrative sugarcane industry and roads through the flatland outskirts take you among the fluttering fronds of the sweet crops and the towns that prosper from it. Waterways on either side run into the "Big O," as the lake is called, making it part of a152-mile boating passage way through the middle of the state known as the Okeechobee Waterway.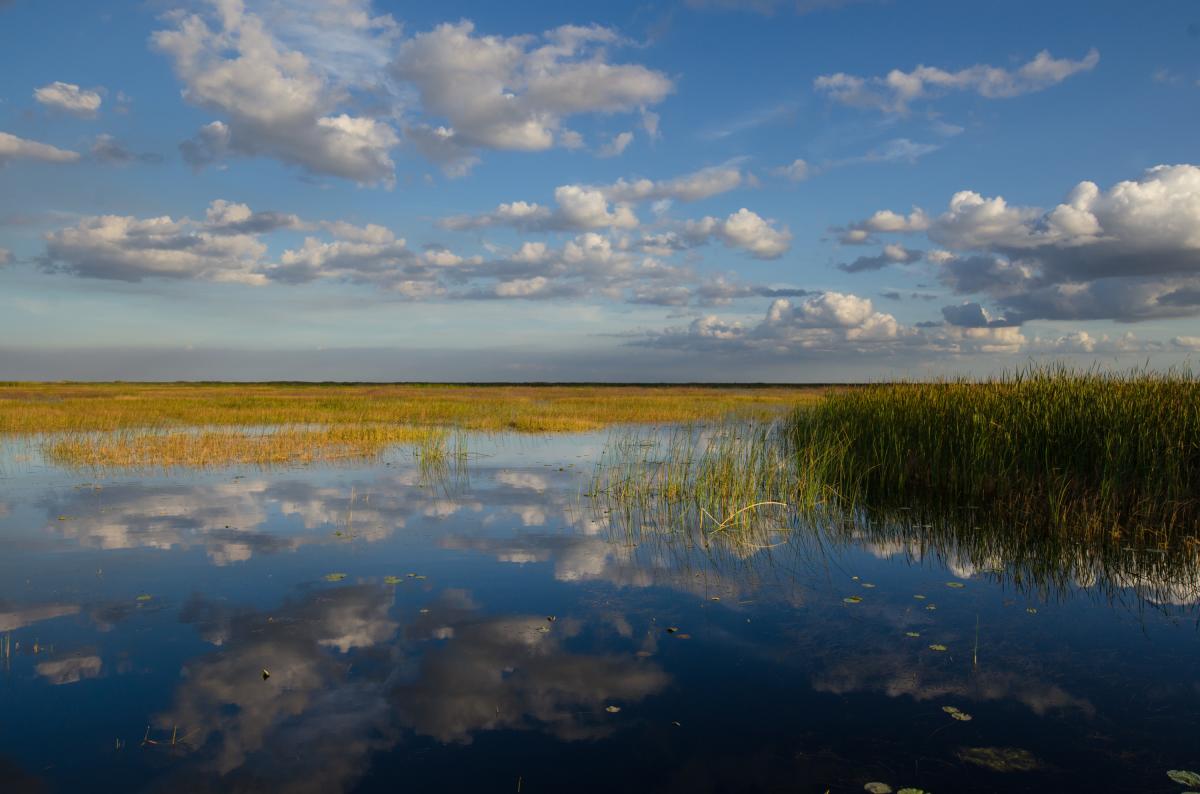 Clewiston, on the 750 square-mile lake's southern shore, has the most to offer vacationers, especially those intent on hooking into the lake's legendary largemouth bass and speckled perch. Fishing guides and resorts help out with that goal. Blue gills, Okeechobee catfish and black crappies are other local catches.
Clewiston is also known as "America's Sweetest Town," so be sure to do the Sugarland tour of a local farm and mill (you even get to chew on some sugarcane) and a three-hour boat cruise that explains the lake's historic and natural heritage. Learn even more at the Clewiston Museum in the old police station and jail. The town throws an annual Sugar Festival in April and hosts guests at its historic circa-1938 Clewiston Inn, a terrific place for a home-cooked Southern-style feast. Stop in its Everglades Lounge for a cold one and a look at its famous wildlife mural. Clewiston's Hispanic population ensures many good taquerias, where you'll find authentic Mexican specialties.
From Clewiston, you can access the 110-mile Lake Okeechobee Scenic Trail (LOST), which circles the Big O atop the 35-foot dike for an elevated view of the lake and its rampant bird life. Part of the statewide Florida National Scenic Trail, it was made for cyclists and hikers, and campgrounds and resorts in Pahokee, Belle Glade, Moore Haven and other fringe towns accommodate those ambitious enough to attempt the entire loop. An annual Big O Hike takes place in November. Participants report spotting manatees, alligators, wild turkeys, bobcats, deer, wild hogs, egrets, osprey, kites and many other birds. A National Audubon Society Wildlife Sanctuary protects the habitat, which is tied into the Everglades wetland system, and its denizens. Specially marked roads allow motorists to drive to the top of the dike for a view of their own.
The Seminole Indians originally named the lake "Big Water" in their dialect. They depended on it for food in earlier times. Today, Big Cypress Seminole Reservation lies close to their Big Water. Here visitors can learn more about native culture at the clever Ah-Tah-Thi-Ki Museum. Have a bite at the Swamp Water Café and take an airboat ride to an Indian camp with Billie Swamp Safari.
West of Clewiston, along the Caloosahatchee River that comprises the western part of the Okeechobee Waterway, LaBelle is a countrified town with a historic town hall, a bookstore and a honey stand for browsing, and fields of citrus surrounding it. Get a taste of its Old Florida temperament each February when it hosts Swamp Cabbage Festival along the river. Swamp cabbage is a pioneer food that comes from the bud of Florida's state tree, the cabbage palm. The nearby Ortona Lock & Dam provides recreationists a place to picnic, camp, fish and drop their boat.
When visiting Lake Okeechobee, things to do include hiking, and you can access the Lake Okeechobee Scenic Trail from the lake's north end, at the town of Okeechobee, an easy-going small town where you can spend the night in a campground on the Kissimmee River, which feeds into Lake Okeechobee, and catch a pontoon or airboat ride out of the marina. It celebrates its fishing and farming legacy with an annual Speckled Perch Festival and Okeechobee Cattlemen's Rodeo in March.
The Lake Okeechobee region keeps the farming heritage of the state's heartland intact with sweeping vistas of sugarcane and citrus crops and a neighborly attitude that welcomes visitors into favorite fishing holes and hometown celebrations.