Florida's blessed with some great lakes, but none are so impressive as the greatest of all: Lake Okeechobee – Seminole for 'Big Water.'
By Gary McKechnie
At 730 square miles, Lake Okeechobee is the seventh-largest freshwater lake in America. Encircled by five counties (Okeechobee, Martin, Palm Beach, Hendry, and Glades), a protective levee, and bordered by quiet, two-lane roads, a Lake Okeechobee scenic drive day trip that begins and ends on the north shore takes you to seldom-seen communities and a glimpse of the era known as Old Florida.
It's a tour that's easy to navigate, enjoyable to photograph, and remarkably pleasing in its simplicity. For travelers searching for a unique off-the-beaten-path excursion, a circle tour of the 'Big O' delivers. Having just completed a literal "round trip," here's one way to approach the drive, starting in the pleasant town of…
Okeechobee
The junction of the self-proclaimed "Crossroads of South Florida" is found at highways 441 and 70, and a quick tour of the commercial district reveals something familiar and comforting about this town of 5,600. A kind of Mayberry feeling. There's Flagler Park where a tank, helicopter, torpedo, and WWII-era 40mm gun are on display and, bordering the park, a long row of independent businesses: bookstores, boutiques, appliance shops, furniture stores, and restaurants.
As they have since the 1950s, locals gather at Gladys' Restaurant for home-cooked meals, shoppers find farm fresh fruits, vegetables, and fresh-squeezed orange juice at Ferrell's Produce Market, and leading up to events at the Okeechobee Cattleman's Association and Rodeo Arena, there's always a rush at Eli's Western Wear.
Murals reflecting Okeechobee's history are found throughout town, and on your way south to the lake detour a few blocks to 610 S.W. 2nd Avenue. In 1996, artist John Gutcher created a larger-than-life mural (roughly half a football field long) celebrating the heritage of Seminoles and settlers.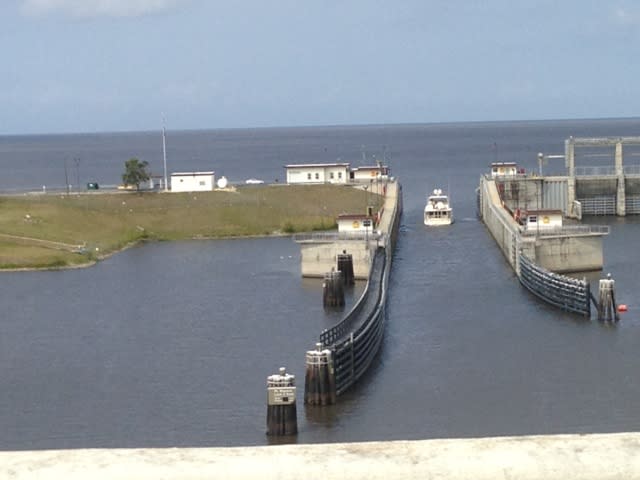 Where Highway 441 comes to a T, an access road scales the levee and from the top you'll enjoy your first all-encompassing view of The Big O. On any given day boaters are setting sail, fishermen are casting lines and nets, and fellow sightseers linger at a picturesque pier for a closer look at the water.
Soak in the view and then begin your clockwise drive.
Okechobee Events & Contacts
In case you wanted to park your car and stop in for one of many Okeechobee's famous festivals, here's some information on when to get there and what to do.
Enroute to Pahokee
The Lake Okeechobee scenic drive between Okeechobee and Pahokee is roughly 40 miles, and in that distance are myriad places to pull over and marvel at the scale of the lake.
Lake Okeechobee's Scenic Trail signs point toward the levee where, from the summit, you'll often find massive gates that regulate water levels and, in some cases, locks ushering boats in and out of the lake. At each pullout you'll cross the 109-mile paved recreational path encircling Lake Okeechobee that is enjoyed by hikers, joggers, and bicyclists alike. Every Thanksgiving Week it's the venue for "Hike the Big O," a nine-day expedition that does on foot what you're doing on wheels.
These first few miles are memorable for vintage scenes repeated again and again. To the left, pastures fan out to the horizon; to the right, trailer and RV parks and 1950s-era ranch homes line the lakeshore. You'll cross Taylor Creek (named for Seminole enemy/future president Zachary Taylor) before reaching the curiously named community of Up the Grove Beach.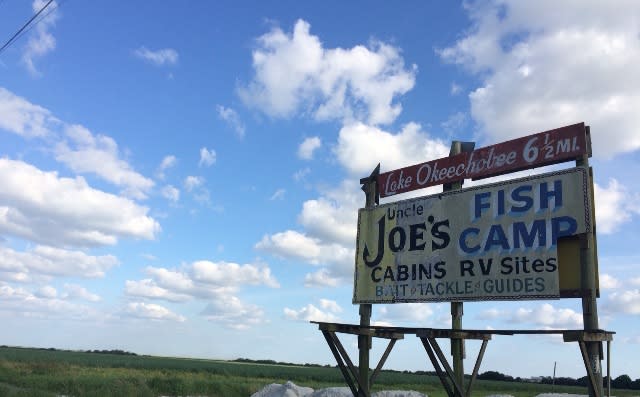 Thirty-one miles from Okeechobee, J&S Fish Camp & Tavern rewinds the clock to the 1940s. Set on more than five waterfront acres are RV sites as well as vintage cabins constructed by members of the Army Corps of Engineers more than half a century ago. Although the tavern doesn't serve food, it doesn't matter to motorcyclists who've made this a popular weekend destination.
Just over the Palm Beach County border, the community of Canal Point is a speck of a place highlighted by an historical marker noting this was where Conner's Toll Highway, a 52-mile road built atop what had been muck land, was completed in just eight months in 1924-25.
After this, lush vegetation, elegant royal palms, and clusters of banana trees mark the final few miles to Pahokee.
Pahokee
Everyone has to come from somewhere, and Pahokee happens to be that somewhere for more than a dozen current and former NFL players as well as country music legend Mel Tillis, who was raised here. 
On the main drag, the facades of a shuttered Art Deco theater and general store are as silent as the town itself. But when you reach the junction of 441 and Lake Avenue, turn right and cross the levee to the lakeshore.
Before you is the picturesque Pahokee Marina & Campground where anglers are actively casting for bass, crappie, and bluegill. By the clubhouse, Pahokee Mo's Bar & Grille is highlighted by a wall-to-wall floor-to-ceiling bay window that frames the most lake perfectly. Should you decide to stay over at the Good Sam campground, you'll enjoy one of Florida's most fantastic parcels of real estate: A narrow strip of land literally steps from the shores of Lake Okeechobee.
Pahokee Contacts
Enroute to Clewiston
On the drive south, Highway 441 veers slightly away from the lake. Palm and banana trees are gradually replaced by fields of sugar cane and trailers stacked with harvested stalks. There's little to see aside from the Paul Reardin Park (about 10 miles south of Pahokee) and, a few miles later, the town of Belle Glade ("Her Soil Is Her Fortune") where the modern design of Palm Beach State College stands out in this rural region.
After turning west onto Highway 80, again drive to the top of the levee. Overlooking the lake and neighboring South Bay Campground, from here you can look far to the north and try to spot the town of Okeechobee, the starting point of your journey.
After merging onto US 27 signs welcome you to Hendry County and the road brings you to the town of Clewiston.
Clewiston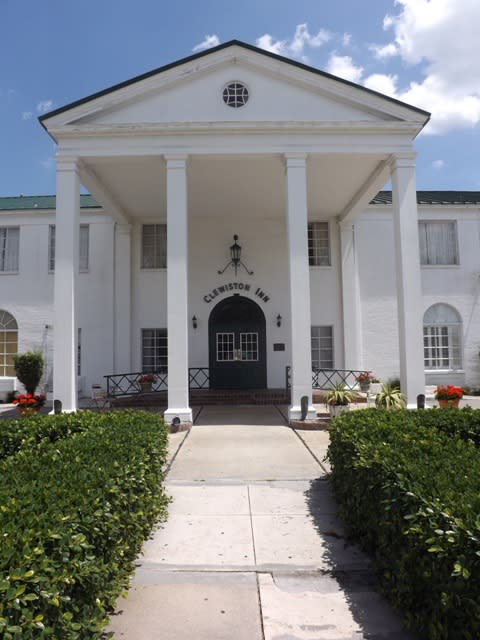 Sitting roughly at the southernmost point of Lake Okeechobee, Clewiston also has the lake's southernmost feel. That may stem from the slow pace of downtown, its genteel city park and, especially, the classic 57-room Clewiston Inn, whose antebellum look conveys a strong sense of the Old South.
Originally built in 1926, the décor hasn't seemed to change much in the years since. Listed on the National Register of Historic Places, for an Old Florida lodging experience you can't ask for anything more authentic – especially when you retreat to the inn's Everglades Lounge. Painted in the 1940s by noted artist J. Clinton Shepherd, a 360-degree mural of Florida wildlife wraps around the room.
A testament to the rural nature of the region, Clewiston is the only town on the southern shore that offers big box stores, supermarkets, and chain hotels and restaurants. If it's too late to complete the tour, consider staying the night.
Clewiston Events and Contacts
Clewiston provides another good spot to get out, stretch your legs, and see the sites.
Enroute Back to Okeechobee
Peeling off from US 27 in Clewiston on the Lake Okeechobee scenic drive, look to the right for CR 720, a road that leads you back to the lake… and farther back in time. Drive it with care -- sharp turns, deep canals, and an absence of guardrails pose a constant risk (an alternative: stick with Highway 27). One reason to travel 720 is to get a glimpse of yet another Old Florida find: Uncle Joe's Cabins.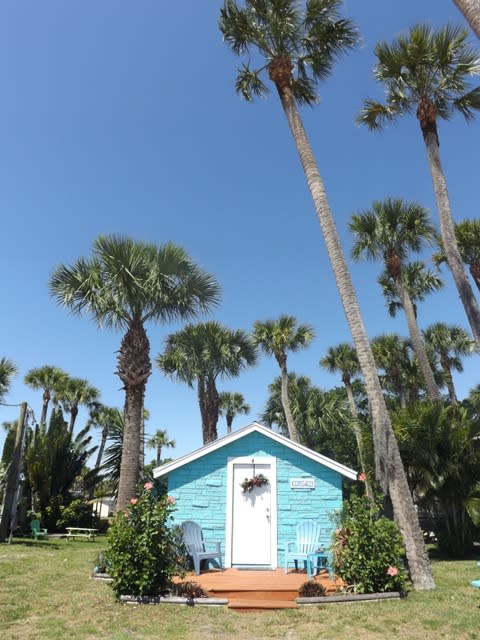 It's a strange feeling to travel far, far off the beaten path and find residents and guests living here in cabins and cottages. A small store caters to residents and the occasional traveler, and should you have an itch to go fishing, the lake is just steps away.
From here, 720 bobs and weaves west through the sugar cane fields and brings you to a gorgeous bridge that soars up and over the Caloosahatchee River and deposits you in Moore Haven, the Glades County seat. After turning north on Highway 78, only 38 miles remain between you and your starting point. But here, on the western edge of the lake, the water is often out of sight, the land between reserved for farming.
Periodically, points of interest such as boat launch sites like the one on Fisheating Creek pop up. Then there are charming small towns like Lakeport (home of February's Sour Orange Festival) and trailer parks like the Aruba RV Resort and Tiki Grill. Most impressive is mile after mile of Florida at its natural best. A real-life reflection of the famed Highwaymen paintings, the western horizon is speckled with clusters of palm trees, egrets whisper across the wind, and cattle roam slowly across the plains.
Fast approaching the start/finish line, you re-enter Okeechobee County and arrive in the well-tended Buckhead Ridge, a community comprised of small homes perched on canals accessing the lake. Now on the final leg of the journey, cross the Kissimmee River and you are back to the land of lakefront RV and trailer parks.
On your right, restaurants and marinas re-appear along with one of the rare attractions, Eaglebay Airboat Rides, which can show you the lake from an entirely different perspective.
Until then, now is a perfect time to return to the pier where your journey began. Stand here on the north bank of the great Lake Okeechobee and look across the water. Follow the shoreline with your eyes and recall where this journey has taken you.
It has taken you to real Florida.