By VISIT FLORIDA staff
Beaches and parks are listed geographically from north to south.
This area offers an outstanding number of golden Florida beaches, including many protected state and national parks. The local city and county beaches have plenty of onshore activities, and the area is known for several offshore shipwrecks that are perfect for some spectacular scuba diving.
Sebastian Inlet State Park features some of the best surfing in the state in three miles of blue Atlantic water. Situated on the tips of two barrier islands, the park is surrounded by the Atlantic Ocean to the east, the Indian River Lagoon to the west and the Sebastian Inlet flows between the two. It is a favorite spot for picnicking, swimming, surfing, fishing, boating, snorkeling, Scuba diving, bird watching, and camping.
Vero Beach Beaches
Vero Beach is where you can escape the hustle and bustle of everyday life. Vero Beach beaches offer plenty of public beach access and a number of full-service parks, depending on your needs. Humiston Beach Park and Jaycee Park are the only areas in Vero Beach that provide beach wheelchairs. 
Wabasso Beach Park is located in Vero Beach amidst some popular family resorts. It has wide, quiet beaches that are perfect for swimming.
Golden Sands Beach Park is a traditional beach park with lifeguards, grills and picnic area, dressing facilities, restrooms and showers. It's a good place if you feel like snorkeling or Scuba diving.
Jaycee Park is more than eight acres of oceanfront park perfect for family gatherings. There is a playground, a restaurant, a scenic boardwalk, a large picnic area and a buoyed swimming area.
Finally, Humiston Beach Park is located in the heart of Vero Beach's island shopping district. Throughout the year, this four-acre park is the center for arts and crafts shows and other festivals. 


The beautiful barrier island called Hutchinson Island features 21 miles of pristine beaches including Fort Pierce, Port St. Lucie, and the beaches of Martin County from Jensen Beach to Stuart Beach. Public parks lie along seven miles of this Atlantic coastal stretch, projecting an unspoiled, tropical tranquility. Fishing is also abundant, and several offshore shipwrecks provide excellent diving opportunities. From the Pines north of Ft. Pierce Inlet south to Waveland Beach, there are 33 points where you can access these beautiful Indian River beaches. 
Fort Pierce, FL Beaches
Pepper Park is best known for the 1700s Spanish wreck Urca de Lima that lies sunken in 15 feet of water just 200 yards offshore. So put on your fins and mask, and swim out to take a look. Aside from the great snorkeling and Scuba diving, the park also features tennis, basketball and volleyball courts, picnic areas and a boardwalk. It's one of the most well known Fort Pierce, FL beaches.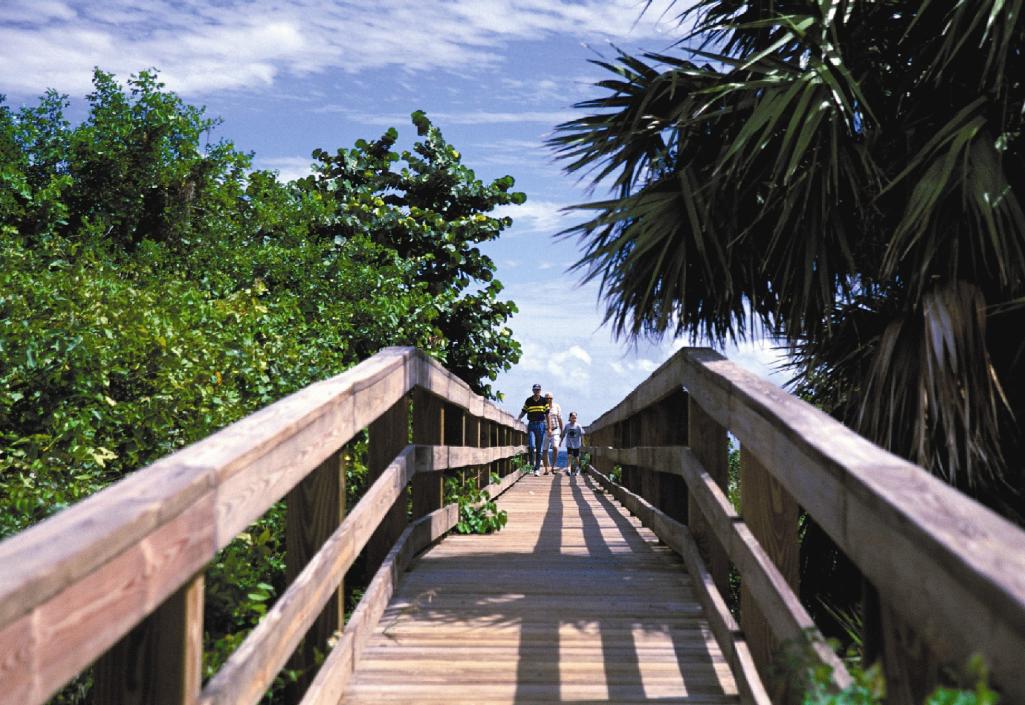 Fort Pierce Inlet State Park/North Jetty Park is a 340-acre state-owned oceanfront forest overlooking sand dunes and the sparkling Atlantic Ocean. The North Jetty is a prime spot to try some fishing, and there are picnic and camping sites, grills and restrooms. If you're a nature lover, you'll love this Fort Pierce, FL beaches option. You'll find plenty of wildlife here, so bring your binoculars for some bird watching.


South Jetty Park and Pier, on the south side of the Fort Pierce Inlet at the end of Seaway Drive, is a 1½-acre ocean park with a 1,200-foot fishing jetty, boardwalk, restrooms, picnic areas and pavilion.

South Beach Boardwalk is a scenic boardwalk set at the top of tall, sea-oat-dappled sand dunes from which you can see the sparkling ocean below. If you are looking for Fort Pierce, FL beaches that are best for a picnic, here there are raised picnic pavilions, as well as showers and restrooms. 
The Beaches of Martin County
Encompassing the communities of Port Salerno, Stuart, Palm City, Jensen Beach, Indiantown, Jupiter Island, Hobe Sound and Hutchinson Island, Martin County serves up beautiful beaches and more than 75 parks – not to mention the most bio-diverse lagoon ecosystem in the Northern hemisphere, the St. Lucie Inlet.
Jensen Beach is bustling with excitement. Locals and visitors alike flock to the sandy shores of this park on Hutchinson Island. Several picnic pavilions, as well as volleyball courts, bathrooms and showers make this a complete all-ages park.
Stuart Beach overlooks the Atlantic Ocean and golden sand beach, featuring a 250-foot boardwalk. Volleyball and basketball courts are on site, as well as a playground and the Elliott Museum, which houses a collection of Americana dating back to 1750.

Bathtub Reef Beach is an undeveloped 1,300-foot beach with a shallow offshore reef that is good for snorkeling and diving. During low tide, inspect the tidal pools of the rocky reef for sea life. The park features lifeguards and a river boardwalk on the west side of MacArthur Boulevard leading to the Indian River.

St. Lucie Inlet State Preserve is set on the north end of Jupiter Island. This 928-acre park has 2½ miles of remote beach accessible only by boat. A boardwalk leads from docks to the shore. Inland you can explore the mangrove-lined creeks, or offshore, search the limestone reef for unique underwater life.

Blowing Rocks Preserve has extensive rock formations on and off shore. Fishing, snorkeling and diving are popular along this beach on Jupiter Island. There are no lifeguards on duty, but there is an extensive boardwalk area on the Intracoastal side on the park, as well as a nature center. You can enjoy the park even on days the ocean is too rough for swimming. Just be careful as you watch geysers explode through the formations when the waves crash on the rocks.

Hobe Sound National Wildlife Refuge is a pristine 967-acre park featuring 3½ miles of beach on Jupiter Island. It's one of the state's most popular turtle nesting beaches, so if you are here in the spring or summer, you'll be sure to spot some nests. On the mainland, preserved nature trails weave along the Intracoastal Waterway.
 
Photos by Lauren Tjaden for VISIT FLORIDA