By Terry Gibson
You can find about any type of cuisine in gourmet restaurants in southern Florida's coastal cities. But to experience authentically Florida cooking, with complimentary Latino and southern soul flavors, take a ride inland through the pastoral farm fields of the peninsula's southern interior. 
Whether you work up an appetite enjoying outdoor activities such as fishing, skydiving or bird watching, or choose to dine for dining's sake, culinary adventures await you at these Okeechobee restaurants.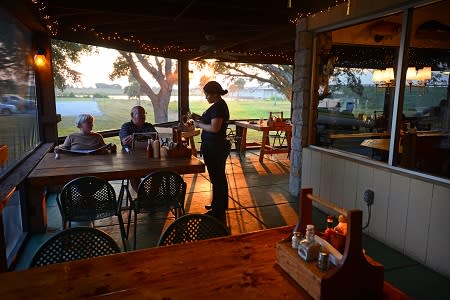 Be sure to stop in at Lightsey's Seafood Restaurant along State Road 78 and the Kissimmee River, just west of Eagle Bay. - Photo by Peter W. Cross for VISIT FLORIDA
Hop into the car or your boat or onto your motorcycle, and bring your appetite.
Waterfront Dining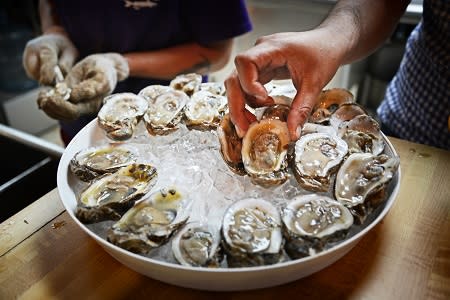 Oysters are a specialty ay Lightsey's Seafood Restaurant, located where the Kissimmee River and Lake Okeechobee meet. - Peter W. Cross for VISIT FLORIDA
Scotty's Tiki Bar & Galley Restaurant, located in Clewiston on the lock canal at Roland & Mary Ann Martin Marina, is a favorite among Clewistonians, anglers and bikers. It's also a convenient stop for those heading across the Okeechobee Waterway. You can tie off at the dock below the bar. Gator tail is a staple here. The burgers are great, as is the fresh fish.
Lightsey's has been serving the most authentic 'Glades food for several generations. If it walks, crawls or swims in Florida, they probably serve it. Located on the bank of the Kissimmee River, just above where it pours into Lake Okeechobee, next to the Okee-Tante Recreation Area, the view could not be prettier. Here's where you expand your palate. Try the catnips for an appetizer, along with succulent oysters. Order frog legs and shrimp by the pound. Dig into fresh Gulf grouper or catfish caught in Lake O. Gator tail is always available, and you have to try the "cooter," which is freshwater turtle.
Latino Cuisine
Café Tropical, located in Clewiston, serves outstanding Cuban food at bargain prices. You can't go wrong with the Cuban sandwich or medianoche. The oxtail is excellent. Enjoy yuca as well as black beans and rice as sides.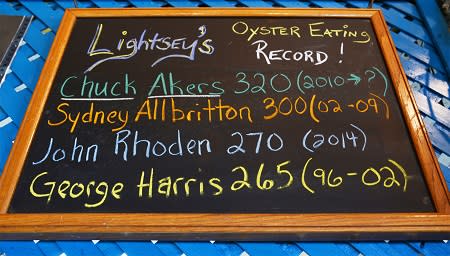 You can always enter the contest at Lightsey's Seafood Restaurant, but the competition is pretty impressive. - Peter W. Cross for VISIT FLORIDA
The Sunrise Restaurant, also in Clewiston, offers excellent Mexican cuisine and some of the biggest, tastiest margaritas on earth.
Pueblo Viejo Restaurant in Okeechobee is a local favorite that makes a great avocado salad and carne asada among many other great Mexican dishes. The margaritas are also awesome.
Soul Food
The Banyan Tree Café in Belle Glade serves soul food delicacies including collard greens, incredible fried chicken and candied yams. The collards come fresh from the fields of the Everglades Agricultural Area. You may also want to try the ribs or pork chops with cream of corn and beans. The beans and corn were grown nearby as well, and you haven't tasted sweet corn until you've tried sweet corn from the Glades.
Great Steaks
Okeechobee is a cattle town, and you can bet that the beef you'll enjoy at the Speckled Perch Steakhouse was grazed close by. It's known for the sound of the "saw" coming from the kitchen where all steaks are cut, trimmed and cooked to order. The Bream Room gets a little wild most weekend nights with great bands playing.
Festivals
You've probably experienced "swamp cabbage" as heart of palm. It is the heart of the sable palm, an important tree native to Florida. Each year, the City of Labelle, which is about 13 miles west of Lake Okeechobee, hosts its Swamp Cabbage Festival. You can sample all kinds of swamp cabbage dishes, including stews, salads and casseroles. There's also a rodeo, a parade, and plenty of live music.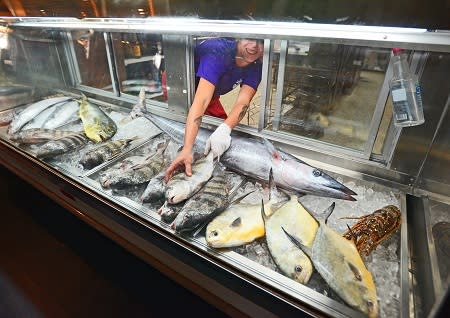 The seafood is fresh and plentiful at Lightsey's Seafood Restaurant along State Road 78 and the Kissimmee River, just west of Eagle Bay. - Peter W. Cross for VISIT FLORIDA
The Black Gold Jubilee held in on Torry Island in Belle Glade each spring celebrates that Belle Glade's "soil is her fortune." The event offers great local cooking, plus bands, swamp buggy rides and other excitement.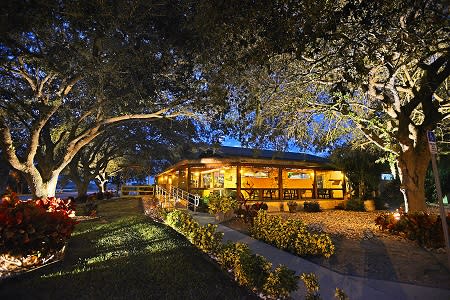 Nestled under several live oak trees and along the Kissimmee River, you'll find Lightsey's Seafood Restaurant. - Peter W. Cross for VISIT FLORIDA
Chalo Nitka Festival, held in Moore Haven, originated in 1948. Chalo Nitka is Seminole for "big bass." It's a week-long series of events that showcase the southern hospitality of Glades County and our friends from the Seminole Tribe of Florida. Enjoy livestock shows and alligator wrestling, and a ranch rodeo. Authentic Seminole Indian cuisine awaits your taste buds.
Combine the excitement of professional rodeo with a great fish fry at the annual Okeechobee Speckled Perch Festival.