SeaWorld tips and hints for tots, 'tweens, teens, and adults.
 
By Chelle Koster Walton
Something about dolphins, manatees, whales and even sharks brings out the emotions in all ages - in a range from delight to delicious fear. Pre-schoolers especially thrill at the simple prospect of seeing the creatures and watching their behaviors. Grade-schoolers are more likely to pick up on the park's educational aspects, as will older guests, who also love the thrill rides.

Pre-Schooler Favorites
SeaWorld presents many ways to experience sea creatures - as removed or close-up as you desire. Touch pools, aquariums and exhibits allow pre-schoolers to gaze endlessly at their favorites. Take them to see the Beluga whales and polar bears in "Wild Arctic," one of the park's most impressive re-created habitats. It also happens to be a great spot to cool off if it's hot outside. A thrill ride goes with this attraction, but you can watch a milder film version or simply visit the animals and skip the drama. Several new kiddie rides help the younger visitors experience the park the way their big siblings do!

The toothy stars at "Shark Encounter" are fascinating, as are the residents of the "Penguin Encounter."

Many of the shows are kid-oriented. Don't miss "Pets Ahoy!"  Check out the newest show, "One Ocean," a multisensory celebration of life under the sea that entertains, educates and inspires. Majestic killer whales join you on a journey into a world that drenches your senses in the vivid colors, vitality and global rhythms of the ocean. Dancing fountains set the stage for visitors to realize that we are all part of one world and one ocean.
Additionally, "Blue Horizons" showcases both whales and dolphins.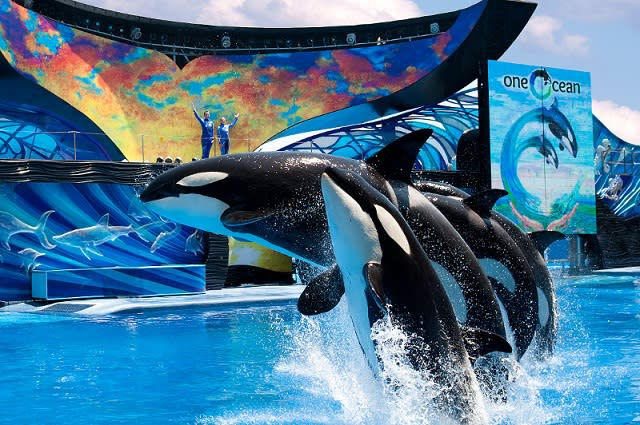 Of course, Shamu is the headliner of "One Ocean." "Shamu's Happy Harbor," a cool interactive playground, lies nearby. Kids could spend hours here, so budget your time accordingly.

Grade-School Winners
Kids 42 inches tall or higher will want to do the motion-simulator "Wild Arctic" ride. Other attractions grade-schoolers especially enjoy include the pink flamingo paddleboats and the Sky Tower, all of which incur extra charges. At the "One Ocean" show, kids this age often want to sit in the "Splash Zone," where Shamu douses guests with truly chilly water. Satisfy their affinity for dolphins by visiting the Key West are to feed dolphins and listen to the educational presentations at Dolphin Cove.

Terrific for 'Tweens, Teens and Upward
Bring on the thrills for your older, adventurous family members. Head to one of Orlando's most sensational roller coasters, the floorless "Kraken" (must be 54 inches or taller) and the get-wet "Journey to Atlantis" (42-inch height requirement with an adult, or 48 inches for kids to ride alone). Older children and adults will most appreciate the performance of "A'Lure, The Call of the Ocean," combining powerful, high-energy acrobats with mesmerizing electronic effects to tell the tale of Sea Sirens.

One of the favorite forms of entertainment for adults is the Makahiki Luau dinner show at The Waterfront (see below).

For All Ages
The Waterfront, one of SeaWorld's attractions, is certain to bring a smile to all weary theme park-goers. The Waterfront's collection of restaurants, entertainment and shops (one where they free dive for your pearls) is designed to emulate the world's most vibrant seaside cities.

SeaWorld's Sister Park: Discovery Cove


If your kids are truly dolphin-addicted, make advance reservations at Discovery Cove, an all-inclusive dolphin encounter and snorkeling experience across the street from SeaWorld, its sister attraction. Besides the centerpiece dolphin interaction experience, the park offers a sand beach, a pool where you can swim with "stinger-free" rays, a lazy river-type snorkeling adventure that ends in a pool where sharks nose up against glass barriers, tropical birds you can feed and a buffet meal - all for one price. Grade-schoolers get the most out of Discovery Cove, but even older kids enjoy it if they've never before snorkeled in a real marine environment.