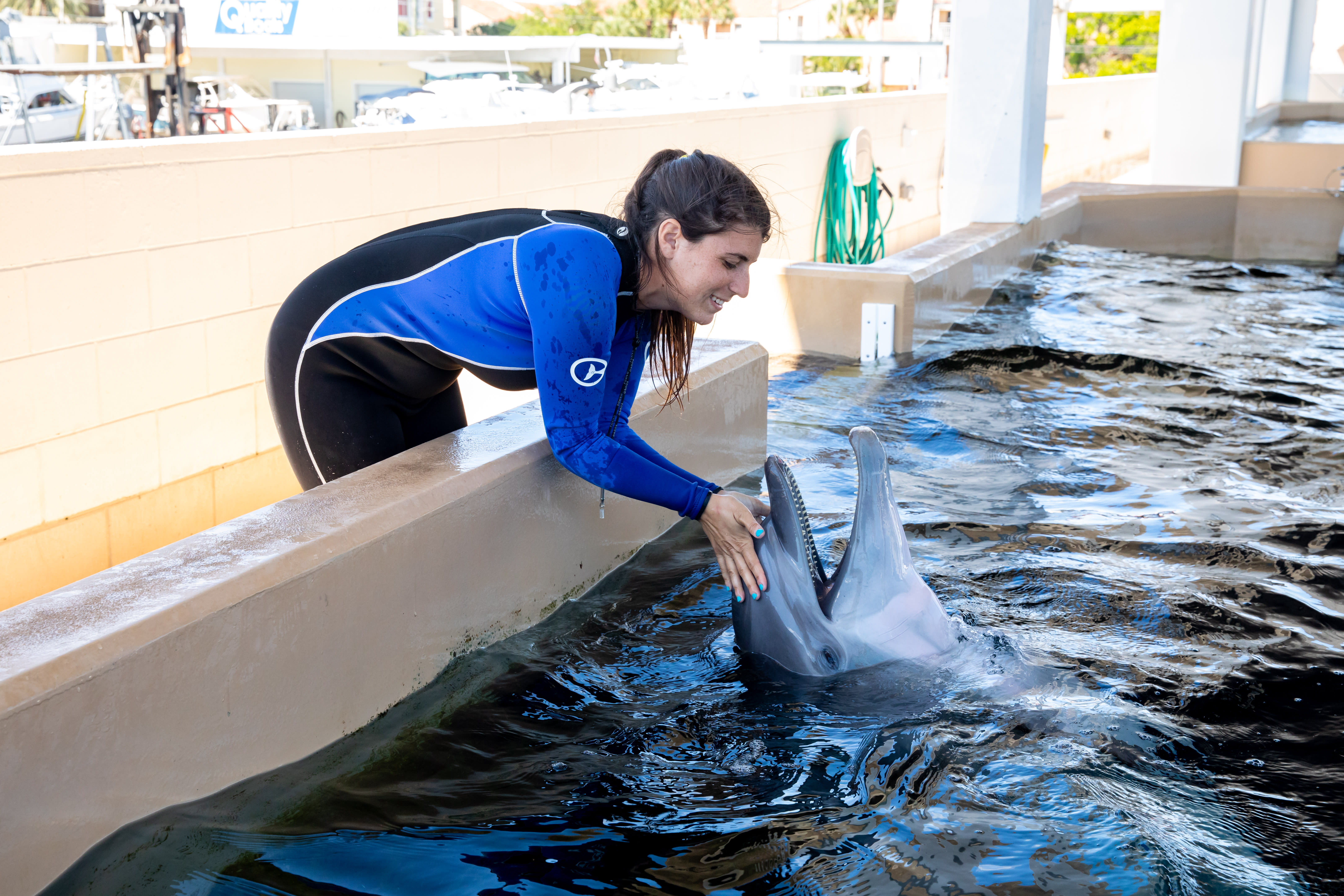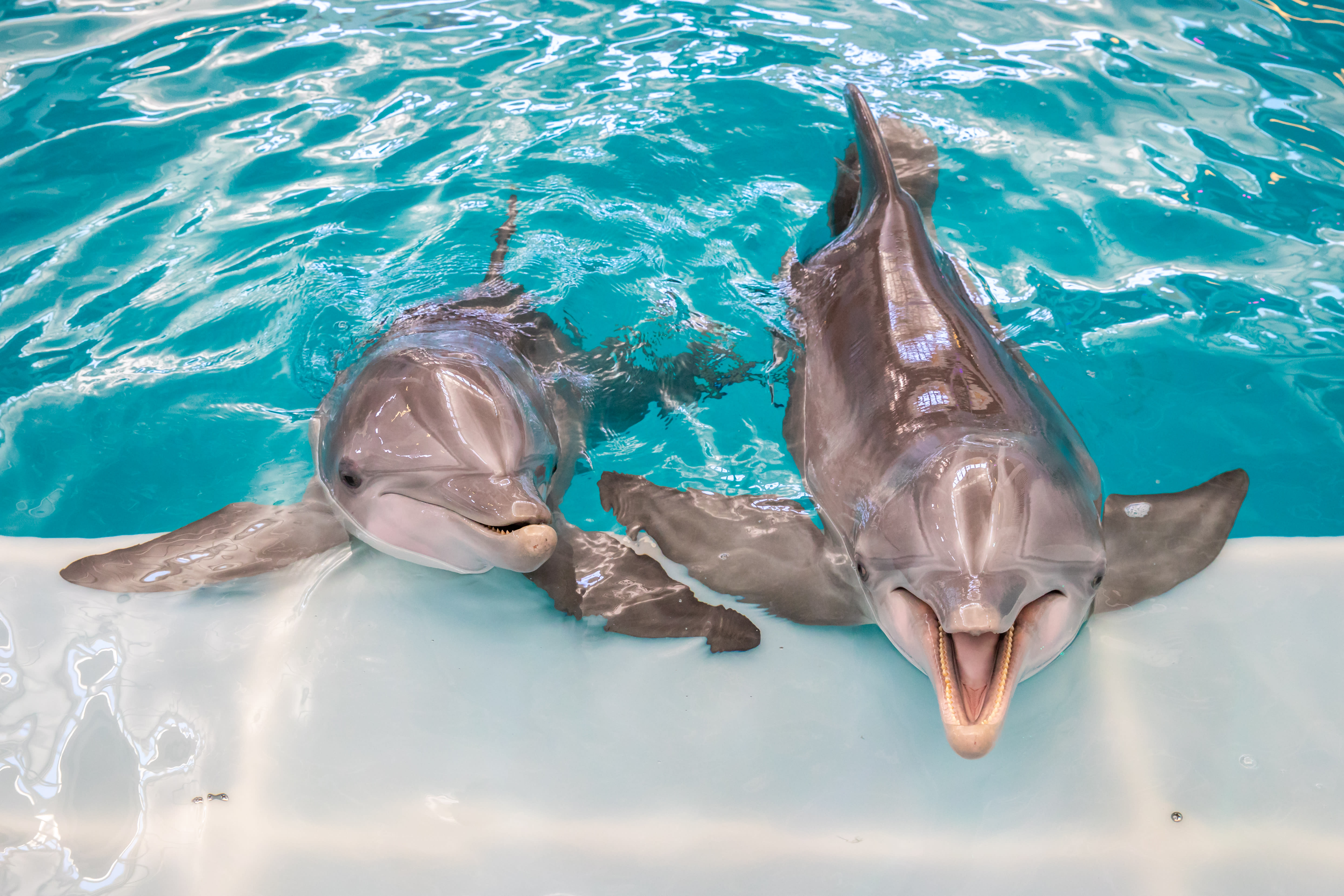 By Saundra Amrhein
It was around 9 a.m., the hour when tourists enter Clearwater Marine Aquarium, and already dozens of Summer Campers were inside the building. Wide-eyed, they're were wearing miniature crocs and wet shoes, carrying satchels full of snorkel gear and towels.
As more than a dozen children made their way through the open-air corridors, Taran Fletcher stopped in his tracks. The 10-year-old from Missouri spied the source of his recent obsession, the focal point around which his family has planned their vacation.
"There's the dolphins!" Taran whispered loudly. He fixed his gaze just 20  yards away at the aquarium's resident celebrity as she poked her head above water to interact with her trainers.
"Hi, Winter!" the boy next to Taran called.
Taran already was very familiar with Winter's life story – a story that has reached millions across the globe and converted this former sewage treatment plant into an international sensation almost overnight.
Taran had watched "Dolphin Tale" – the movie based on Winter's life – 10 times.
"Nine of them were on the way here," Taran said about the drive from Missouri to Florida.
But this morning, he learned something his fellow campers were already eagerly anticipating about "Dolphin Tale 2." Along with the returning all-star cast that includes Nathan Gamble, Morgan Freeman, Ashley Judd, Harry Connick Jr., Cozi Zuehlsdorff and Winter herself, was a new resident of the aquarium: a rescued dolphin named Hope. Before Taran moved on with his class, he caught a glimpse of Hope swimming next to Winter.
"It's just a magnificent wonder to be here," Taran said. "I love this place."
Story of Winter the Dolphin
Coverage started locally. A story in the St. Petersburg Times appeared a month after the December 2005 rescue of a baby bottlenose dolphin, found by a fisherman entangled in the rope of a crab trap in the cold waters of Mosquito Lagoon near Cape Canaveral.
She was brought by a SeaWorld rescue van across the state to the only aquarium that would or could take her, Clearwater Marine Aquarium. It was a former sewage treatment plant turned marine hospital with a mission of rescuing, rehabilitating and releasing dolphins, sea turtles and other sea life. Veterinarians and volunteers worked around the clock on the dolphin during a chilly cold front. They named her Winter.
They worried for her tail. They had never seen a dolphin survive without one. Hers, where the ropes had stopped blood circulation, was rotting and falling off. Caregivers watched and waited as the rot climbed her peduncle, or lower trunk.  If it reached her spinal cord, she would die.
It finally stopped – one vertebra below the spinal cord. But new concerns arose. With no up-down propulsion from a tail, Winter swam side-to-side, like a fish, curving her spine and inciting scoliosis. Newly arrived CEO David Yates spread the word about Winter's struggle and the price of human debris left in the sea. Winter's story went national – on the Today show and across the AP wire – and international on the BBC.
Experts designed models for a prosthetic tail to help her. Before long, children with prosthetic legs and injured American soldiers returning from Iraq visited, inspired by her story. In 2011, Dolphin Tale was released. Then a documentary. The crowds kept growing.
From Sewage Plant to New Facility
After Winter's rescue and the making of "Dolphin Tale," aquarium attendance tripled. With the growth, the aquarium added rehabilitation space. At a  surgical wing, guests watched behind glass as doctors remove a fish hook from a sea turtle's throat.
The building has a 3,000-square-foot education wing with classrooms and an equal-sized "stranding deck" for rescued dolphins, and a refurbished habitat for river otters and other rescued sea life no longer fit to survive in the wild. The parking lot was expanded. Tents outside feature portable bathrooms, ticket trailers and a cafe.
Yet the modest facility, designed as a sewage treatment plant, not an aquarium, has limits for adaptability. As attendance soared, growing numbers of visitors vied for space around concrete posts to see Winter and Hope. (A third dolphin, a popular adolescent male named Nicholas, resides in a pool on the third-floor deck.) The aquarium's primary mission continues to be marine animal rescue and rehabilitation; education before entertainment.
Education and Camp Programs
The aquarium's educational wing and the interest sparked by "Dolphin Tale" also led to expanded programs. Summer and holiday camps for students from kindergarten through high school focus on injured sea turtles, boater safety and conservation, and include a mock rescue of an inflatable dolphin on Honeymoon Island, where the fictionalized version of Winter's rescue was filmed for "Dolphin Tale."
Summer camp students have come from as far away as France. In camp, they learn the difference between the real-life version and the movie version of events. Winter's story fueled motivation and interest in marine life in general, said Lisa Oliver, director of education and research. "There's a huge percentage of children coming in here with a solid base of knowledge of the environment."
Hope for Winter
Sadly, for millions of fans, Winter died in 2021. Possibly the most charming addition to the Clearwater Marine Aquarium was Hope. Hope, a bottlenose dolphin, was rescued in December 2010 while trying to nurse from her deceased mother, very near where Winter had been rescued five years and one day earlier.
Hope arrived at the aquarium the day of the wrap-up party for the filming of "Dolphin Tale."  Hope and Winter shared a habitat and play space. Hope co-stars in a key role as herself in the sequel, "Dolphin Tale 2."
Visit PJ, too
Stop by Clearwater Marine Aquarium and visit PJ, the newest addition to the dolphin family. PJ is a female Atlantic bottlenose dolphin who was rescued in 2018. She is believed to have been about 30 years old at the time of her rescue, and is classified as non-releaseable by NMFS for numerous medical issues, including severe hearing loss, vision loss, worn teeth and arthritis, resulting in the need for long0term resident care. PJ resides with Winter and Hope in the Winter Zone.
When you go…
Clearwater Marine Aquarium
249 Windward Passage
Clearwater, FL 33767
(727) 441-1790