By Kati Schardl
All musical roads lead to Tallahassee, it seems.
With two universities and a community college, the city has a built-in audience for bands touring the college circuit in the Southeast. The city also boasts a jazz club that draws the genre's top stars to play intimate concerts, two new amphitheaters, a world-class concert hall and a burgeoning local music scene that spills out of Tallahassee's dives, clubs and coffeehouses.
If you find yourself in Florida's Capital City, here's an overview of where you can slake your musical thirst.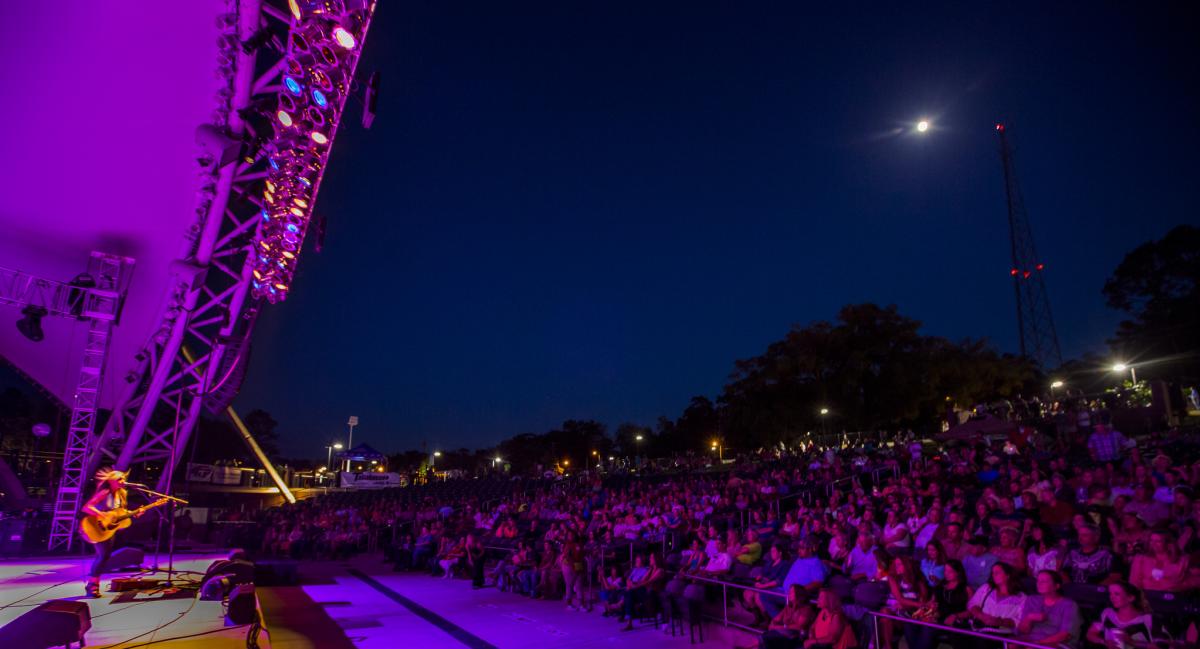 Capital City Amphitheater
1001 S. Gadsden St.
850-571-4700
Tallahassee's newest civic green space, Cascades Park, has been dubbed "the crown jewel of (the) community." The centerpiece is Capital City Amphitheater, a 3,500-seat outdoor venue that has hosted concerts by Wilco, the Avett Brothers, Peter Frampton, Jason Isbell, Tracy Lawrence, Charlie Wilson, Boz Scaggs and O.A.R. The venue also presents seasonal concert series to showcase local and regional acts and is home to the annual Word of South festival.
 
Club Downunder
FSU student union, 75 N. Woodward Ave.
850-644-6673
Back when Florida State University was known as "the Berkeley of the South," Club Downunder was a cave-like subterranean music venue in the student union that welcomed performers plying the folkie coffeehouse circuit and blues legends such as Clarence "Gatemouth" Brown. Now located above-ground in the former union bookstore, the Downunder books acts geared to the college audience, and the entire music-loving community benefits.
 
The Moon
1105 E. Lafayette St.
850-878-6900
This former IGA supermarket has been the site of some of the most memorable concert experiences in Tallahassee. Owner and local impresario Scott Carswell (who also books the acts for the Capital City Amphitheater) presents an eclectic lineup at The Moon, with a regular boot-scootin' country night, urban music nights and concerts by acts from all musical genres – classic rock, soul, hip-hop, blues, jazz and indie rock (the latter booked in conjunction with the folks from FSU's Union Productions office). The club is also the unofficial home of George "Dr. Funkenstein" Clinton of Parliament-Funkadelic fame.
 
The Pavilion at the Centre of Tallahassee
2415 N. Monroe St.
850-385-7145
The newly opened Pavilion amphitheater anchors the redesign and reconfiguration of one of Tallahassee's first shopping malls. The 6,500-seat amphitheater is sheltered from the elements and has already booked shows such as the Taste of Chaos tour featuring Dashboard Confessional, and concerts by the Steve Miller Band, Alice Cooper and Rascal Flatts.  
 
Ruby Diamond Concert Hall
222 S. Copeland St., FSU
850-644-5541
The lovely grand dame of Florida State University's campus is named for one of the university's most beloved and legendary benefactors. It underwent an extensive refurbishment in 2009 and is a state-of-the-art facility that seats 1,200-plus and has a world-class sound system and acoustic design. It is the base for the university's annual Opening Nights Performing Arts series, as well as performances by the acclaimed FSU classical, jazz and world music orchestras and ensembles.
 
Side Bar Theatre
809 Railroad Ave.
850-224-2233
Side Bar Theatre serves up piping-hot live tunes for the indie and college music crowds. Its lineage stretches all the way back to a legendary venue called the Cow Haus, which became the Beta Bar, which moved and morphed into the Side Bar. This is where you'll find everything from touring jam bands to head-banging metal acts to au courant indie bands. Side Bar is also a hub for local bands to stretch their wings and win fans.
 
Waterworks
1133 Thomasville Road
850-224-1887
When the local jazz players aren't polishing their chops at B Sharp's, they can be found jamming at Waterworks, the city's premier (and only) tiki bar. Classical music ensembles perform on the small raised stage, as do local indie bands, acoustic units and soloists. The bar also hosts a weekly Science Salon, Patio Theater movie screenings and other theme nights.
 
CollegeTown
805 W Madison St
850-765-9925
CollegeTown is a place to eat, drink and shop -- and on event days -- experience music. At various times throughout the year, CollegeTown closes down Madison Street and Woodward Avenue and transforms the area into a giant outdoor concert arena. Country, blues, rock -- it's all possible here. Keep an eye on the events schedule to see who'll be performing next.
Follow your ears (and check out the websites) to find live music at these additional Tallahassee-area venues:
 
926 Bar & Grill
926 W. Tharpe St.
Bird's Aphrodisiac Oyster Shack
325 N. Bronough St.
850-222-1075
The Fox & Stag
1122 Thomasville Road
850-559-9449
From the Heart Studio
55 Rose St., Sopchoppy
850-962-5282
House of Music Tallahassee
2011 S. Monroe St.
850-629-9526
MusicLand Co-op
Miccosukee Land Co-op Community Center, 9601 Miccosukee Road
850-570-9325