Get the Paddling You Deserve at Kayak Amelia
It was one of the Amelia Island adventures I was most excited about trying.
After all, Kayak Amelia's three-hour tour explores a quietly beautiful salt marsh, the most productive ecosystem on the entire planet. The marsh is brimming with wildlife like manatees, dolphin, mullet, birds and turtles. A professional naturalist guides the tour, sharing the local history as well as a wealth of fascinating information about the ecosystem.
The tour includes a stop on a sandbar, where you can enjoy a swim, and it includes giant cookies, too – yum!
It's not a punishing three hours, either. The tours are beginner-friendly, and you float with the current, so Ma Nature's doing a fair share of the work. Your duties include relaxing and soaking up the sun and the sights.
But you should listen to someone who knows lots more about it than me! George, from Kayak Amelia,  dishes about giving you the paddling you deserve.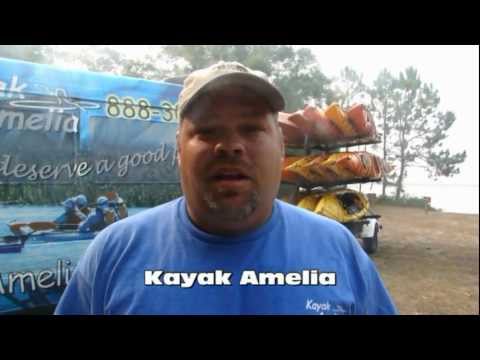 How did our trip turn out? We had to cancel at the last minute due to heavy smoke from a wildfire. I was as sad as a biscuit with no butter, but the good news is now we have an excuse to go back.
Getting the paddling you deserve is only the tip of the sandbar. Other ways to enjoy Kayak Amelia include: ·    Get the pedaling you deserve! Traverse the flat trails through Talbot and Fort Clinch State Parks and Guana Reserve on a Bike Eco-tour.  Learn about the uplands habitat and its inhabitants, which include raccoons, armadillos, deer, hawks and owls.
Rent a canoe or kayak and explore the tranquil creeks of Talbot Island State Park. Snag a swim – or a picnic – on one of the abundant sandy beaches.
Experience eco-teambuilding. Whip up a customized learning program with Kayak Amelia's expert staff. You can combine kayaking, biking or hiking to get the perfect fit for your business or group, which is a vastly better way to bond than sitting in a conference room.
Stand up and paddle! Try this wildly popular new sport and wangle a wicked workout with a Stand-Up Paddleboard Tour.  After a short lesson, you'll be off exploring.
Get stuff. The gift shop is packed with earth friendly gifts like organic cotton, hemp and bamboo clothing, healthy snacks and waterproof cameras. They have some cool items; my hubby Paul bought a hat and I bought a bunch of beautiful hand-crafted cards that were created from (sterilized) elephant dung and rice!
Give your kids a summer they'll never forget. Kayak Amelia offers a Kids Summer Camp, a kayak/nature camp for kids eight to 14 years old. Adventures include exploring new exciting locations within the Timucuan Preserve – for instance, hiking the Talbot Islands, kayaking to Kingsley Plantation and SUP boarding at Huguenot Park.