Midway Flea Market is better known by its nickname "La Pulga," meaning flea in Spanish. At this fabulous Florida flea market, you can find clothes, toys, fresh produce, jewelry, boots, piñatas, Spanish music and more.
 
By Vanessa Caceres
The Midway Flea Market in Palmetto is better known locally as La Pulga, which means flea in Spanish. (Get it?)
You won't find fleas for sale at La Pulga, but you'll find just about anything else you want or need among the market's 250 vendors. You'll also give your senses a feast.
Depending on where you park, your first glimpses at the market may a man holding up fresh fish for sale, large piles of ears of corn in the back of a truck, pony rides where kids ride a small circular path, old appliances, name-brand shirts, princess dresses for girls, cross necklaces, hubcaps, hats, piñatas, or perhaps some gently used but still colorful toys.
But don't just stick to the perimeter of your market journey. Zig-zag your way through the maze of indoor and outdoor vendors at La Pulga to find places like Botas 3 Hermanas, a Palmetto-based shop that specializes in Western style boots, hats, and belts. Owner Antonio Santamaria's booth offers high-quality, handmade Western wear at reasonable prices. You can perfect your cowboy look for as low as $150, belt included.
His boots are made from cow, ostrich, or alligator hide. Some sparkle, feature crosses, and look music video-worthy. Many his customers are originally from Mexico, and they'll wear their purchases on the weekends or for special occasions. "We have some boots for the younger guys who like something flashy," Santamaria said.
Each turn through the rows of booths at La Pulga welcomes you with a different kind of redordded music. Melodic salsa rhythms, the pulsing beats of reggaeton, and the country-like feel of norteña and ranchera are all played, usually loudly, to entice customers. You can also experience live music with two different bands. During one recent visit, the band La Nueva Era 12-12 entertained outdoor visitors to La Pasadita food truck with traditional upbeat Mexican tunes, reminding customers that they were available to play at special events. The cashier at La Pasadita moved along with the music with a smile on her face.
If all this walking around La Pulga makes you hungry, you're in luck. Lime, onion, and cilantro smells fill the air near food and drink vendors. Their offerings include waters and juices made from coconut, tamarindo, watermelon, and other fruits. Want heavier fare? How about cow tongue tacos, also known as tacos de lengua? You can also indulge in tacos made with beef, chicken, pork, or maybe vegetarian tacos de nopales, made with prickly pear cactus, a high-fiber option that tastes similar to a green pepper.
We tried huaraches, made with corn masa and topped with lettuce, tomatoes, and white cheese. Our vegetarian version had beans baked inside the masa. Delicioso!
If you'd rather just snack, try the corn with mayo, parmesan cheese, and chili powder, or the fruit cocktail that you can flavor with lime juice, salt, and chili powder. Or how about chicharrones, a circular-style wheat or pork snack chip, or Taki Fuego, spicy snack chips with lime and guacamole flavors. Just make sure your taste buds are ready for the party.
Locals say they visit La Pulga for bargains on food and clothes they can't find elsewhere. Bradenton resident Waly Zemp said he finds quality shirts at La Pulga that are half the price he'd pay at a local mall. He also finds fresh produce that's less expensive than at a supermarket.
Produce booths are heavy on limes, cilantro, onions, peppers, tomatoes, chilis, nopales, mango, and bananas. An orange vendor attracted customers with his bags of fruit, calling out "$5! $5! Cheaper than Walmart!"
Whether you come to La Pulga in search of a bargain, a cultural experience, or simply a bite to eat, you'll find a vibrant experience that beats a day at the mall, Zemp said.
"It's an active and different market," said Giovanni Palacios, one of the market owners.
When you go…
Midway Flea Market (La Pulga)
10816 U.S. Highway 41 N
Palmetto, Florida 34221\
(941) 723-6000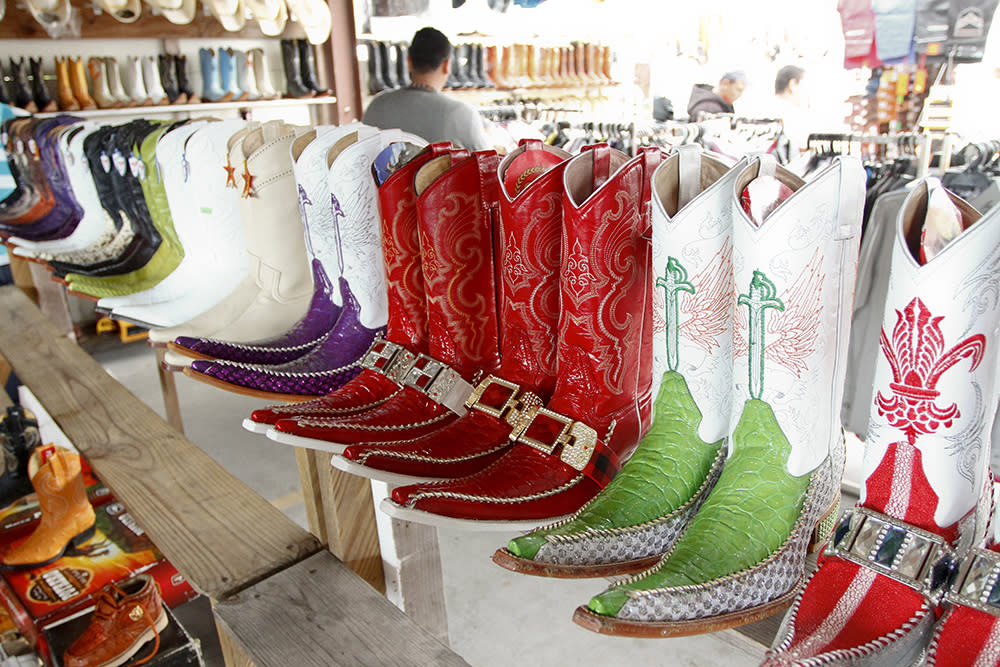 Antonio Santamaria's booth offers high-quality, handmade Western wear at reasonable prices.
- Luis Santana for VISIT FLORIDA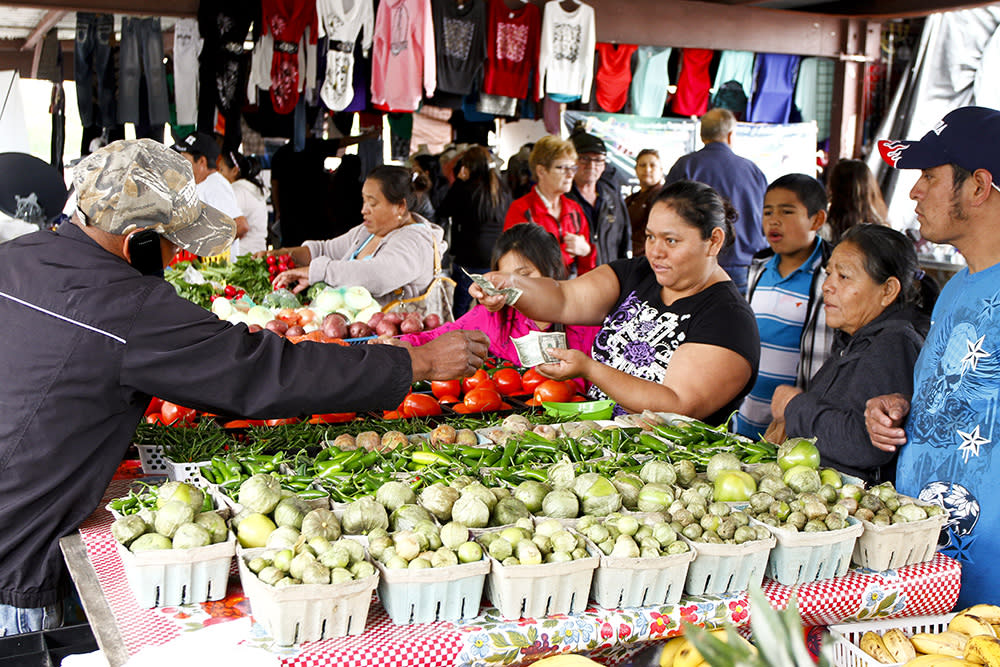 Customers buy fresh fruit and vegetables at the Midway Flea Markey, also known as La Pulga.
- Luis Santana for VISIT FLORIDA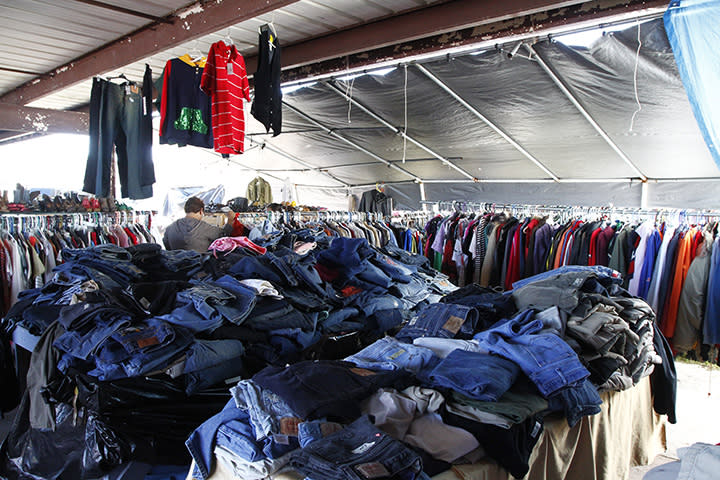 Jeans? Shirts? Sneakers? All here, at La Pulga market in Palmetto.
- Luis Santana for VISIT FLORIDA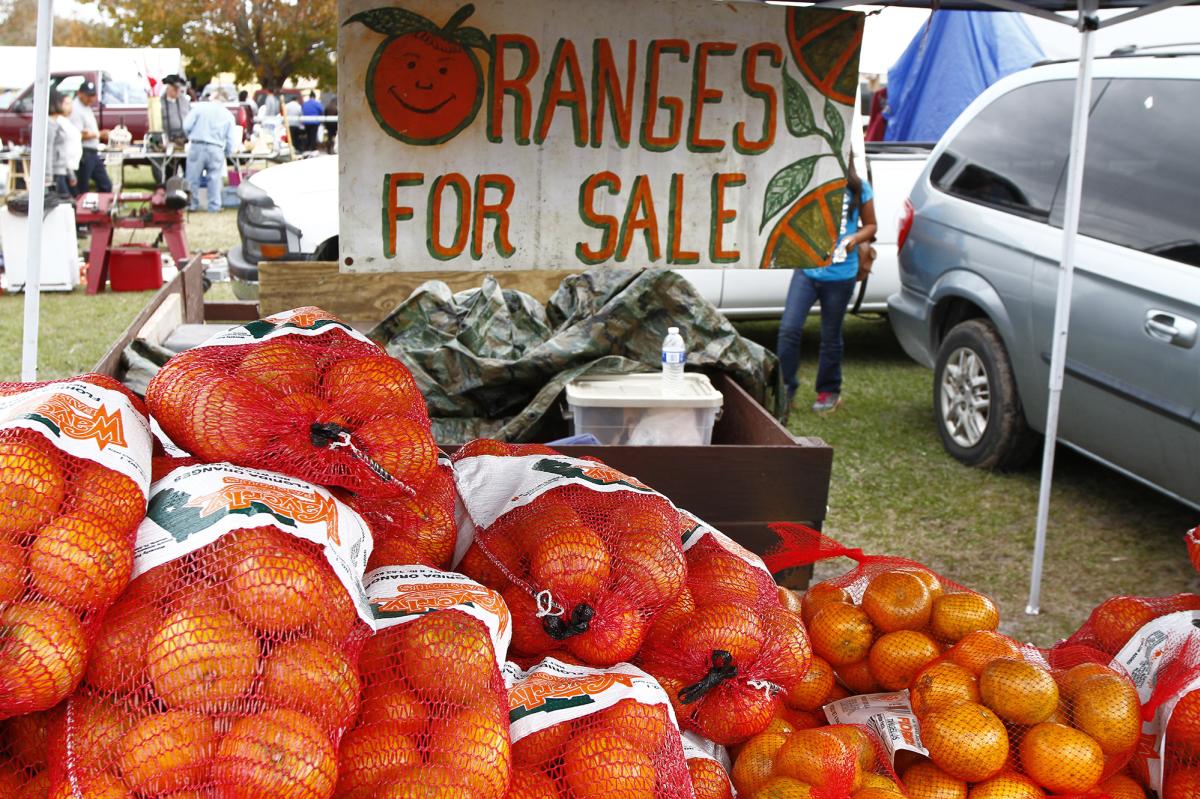 Oranges are just some of the produce for sale at the Midway Flea Market.
- Luis Santana for VISIT FLORIDA