We've got your Port St. Lucie fishing, Fort Pierce fishing charters, boating and eco-tours right here in St. Lucie County.
With endless opportunities for fun on the water in St. Lucie County, your summer of a lifetime can start today. Discover some of the ways you can turn the beautiful St. Lucie waterways into your personal playground - staycation or vacation, it will be unforgettable. 
First on the agenda: polish those rods, because Port St. Lucie fishing is host to some of the best fishing in Florida.
Port St. Lucie Fishing Opportunities
With easy access to the water from a number of public (and free to use) boat ramps, you can split your day between the Indian River Lagoon, where record-breaking trout and snook have been caught. The Fort Pierce Inlet makes a quick trip of going offshore, where just minutes from land you can catch big-game fish including sailfish and the occasional marlin, or bring home a wide variety of fish for dinner. In the summer you can expect to catch dolphin, snapper, tuna and grouper, among other species.
Time for Dinner!
Speaking of dinner, your boating playground in St. Lucie County features several waterfront restaurants that are accessible by boat. There's nothing like a sunset cruise to On The Edge or the famous Tiki Bar in Fort Pierce for a cocktail. These family-friendly restaurants offer a spectacular view, and the Tiki Bar will even cook up your catch (but keep in mind, you're responsible for cleaning your own fish). It's a fantastic way to round out a day on the boat!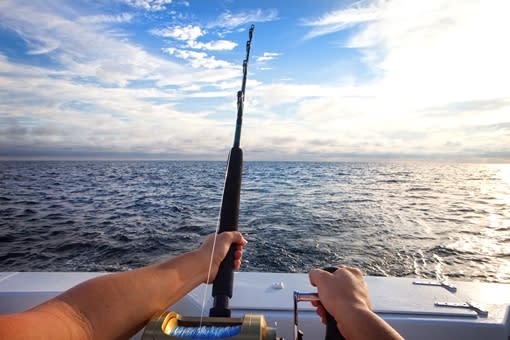 Wildlife and Eco-Tours
The Fort Pierce Marina, where the Tiki Bar is found, is also home to the Manatee Observation and Education Center. Here you can learn about one of Florida's favorite animals, and hop aboard "the gator" for a guided wildlife tour of the lagoon. Don't forget your camera! Chances are you will catch a glimpse of dolphins, manatees, and a variety of native birds. 
Learn even more about our local eco-systems at the Harbor Branch Ocean Discovery Center and the St. Lucie County Marine Center. At the latter, you can make friends with creatures in a touch tank and explore marine habitats such as a coral reef or a mangrove estuary in the Smithsonian Marine Eco-System exhibit.  
Visiting from out of town?  
Take advantage of St. Lucie's boater-friendly accommodations. Dockside Inn and Sandhurst offer rooms for short and long-term guests, and slips for boats up to 36". The Go Fish package at Sandhurst includes two passes for fishing on the award-winning Lady Stuart, which provides bait, gear, and your fishing license for the day. 

Fort Pierce Fishing Charters
If you don't own a boat, don't despair. The fun is still at your fingertips. For those looking to relax, an affordable day-pass to Club Med includes free sailing on their catamarans in addition to use of the resort's pools and other facilities.
For anglers, the Fort Pierce Marina offers Fort Pierce fishing charters ranging from economical group expeditions to private sport-fishing charters with tournament-winning crews. Boat rentals are available with or without a captain, depending on your needs. 
So get out there; summer has arrived in St. Lucie County and there's no better place to spend it than on the water. The playground is waiting!