There are plenty of Gainesville attractions in addition to the Gators game – butterflies, bison and bats; galleries and museums; a piano bar and perhaps the world's oddest pizza joint.
College football in Gainesville doesn't get much better than the University of Florida Gators on the field in the Swamp with 90,000 chomping fans.

Gainesville can be the right place for other outings too, especially before and after the game.

But sticking with Gainesville football for a bit, make sure before kickoff that you're properly clothed and outfitted in orange and blue by cruising one of several university shops or the University Avenue sidewalks, where local merchants and entrepreneurs sport a wide variety of Gators paraphernalia.
 
Then take a stroll across campus for all the tailgating parties – emphasis on party -- with food, drink, camaraderie, and costumes and starting early. It's a great way to meet people – and see what your kids are up to at college.

Leave a few minutes to stop outside the Swamp, Florida Gator's stadium, otherwise known as Ben Hill Griffin Stadium, to salute the statues of three Gators quarterbacks who won the Heisman Trophy: Tim Tebow, Danny Wuerffel, and Steve Spurrier. And don't miss (you can't really) the big Bull Gator. Inside stop off to contemplate the SEC (eight) and national championship (three) trophies.

All that constitutes entertainment in abundance for any UF student parent or fan. Go Gators!

But while you're here, there's more to enjoy. Here's a sampling of some of the best Gainesville attractions:
OUTDOORS
Lake Wauburg
Lake Wauburg gets its name, sort of, from Frederick Warburg who with Moses Levy established a Jewish settlement near here in the 1820s.

Levy, a Sephardic Jew descended from families expelled from Spain in the 1400s, believed Florida could be a home for persecuted Jews from all over Europe, and by 1820 had begun buying thousands of acres in the north central part of the state. He established a plantation and hired Frederick Warburg, a member of a prominent German banking family, to help recruit Jewish settlers. Though Levy's dream of a new Zion never fully materialized, his son David became the first Jewish member of the U.S. Senate.

Over the years, Lake Wauburg (the misspelling is lost in history) via purchases and donations, became the property of the university. Today it's a great spot to relax and enjoy nature.

You can go boating (by canoe, sailboat, rowboat, paddleboat or kayak) swim, play disc golf, or try your hand and feet on a climbing wall. The 55-foot wall has no fewer than 19 routes to the top, able to satisfy the novice and expert alike.

Or you can bring a picnic (tables and grills are scattered throughout the park). Then just loll on the grass, enjoy the cool breeze off the lake and take in the greenery.
Entry into the park is permitted only with a current/valid Gator 1 Card that states one of the following: student, faculty, staff, spouse, partner retired UAA U.F. Foundation, and Shands employees whose cards include a hologram and UF ID number. While Lake Wauburg is not open to the public, a Gator 1 Cardholder may bring up to four guests.

Lake Wauburg is at 133 Regatta Drive in Micanopy, which is eight miles south of the UF campus on U.S. Highway 441. Closed Mondays. Generally open from 10 a.m. 'til 5:30 p.m. but call to check seasonal hours. Call 352-466-4112 or go online at www.recsports.ufl.edu/lake-wauburg.
Paynes Prairie Preserve State Park
This state park boasts more than 20 000 acres, three ponds, two lakes, alligators, herds of American bison, wild horses, and scrub cattle; the latter two descended from the stock of Spanish conquistadores. An observation tower provides an excellent view; a visitor center with museum offers history and information. It's also one of the best spots within miles to boat, camp, hike, fish, picnic, and observe up to 100 species of birds.

Located 10 miles south of Gainesville on U.S. 441. $6 per vehicle with up to eight occupants. Call 352-466-3397 or visit the website at www.floridastateparks.org/paynesprairie.
Devil's Millhopper Geological State Park
At least a dozen small waterfalls provide a gurgling soundtrack as you take 232 steps downward to the bottom of this old sinkhole, 120 feet deep and 500 feet wide. It's a cool, damp mini-rainforest amidst the sand and scrub above. There are picnic tables and a visitor center with interpretive displays. 

4732 Millhopper Road (CR 232); $4 per car of up to eight. Call 352-955-2008 or visit www.floridastateparks.org/devils-millhopper.
The Bat House and Bat Barn
It's a natural nightly ritual drawing curious crowds to watch these flying mammals as they begin their nightly hunt. Get there just before dusk (park down the street) and you'll see at first a couple of the free-tailed bats swoop out every few seconds until whoosh, up to 400 000 of the creatures stream out for their nightly feast on the insect population. The odd Bat House on stilts,  complete with a Batman-like logo, was originally built in 1991 as a new home for the night creatures after their first residence at the tennis and track stadiums and their odor forced relocation. It partially collapsed in August 2009 and was reconstructed with improvements a few months later. In 2010 the Bat Barn was built next door to accommodate the ever-expanding colony.

The bat house is on the UF campus on the westerly Museum Road and across the street from Lake Alice.

Also check out: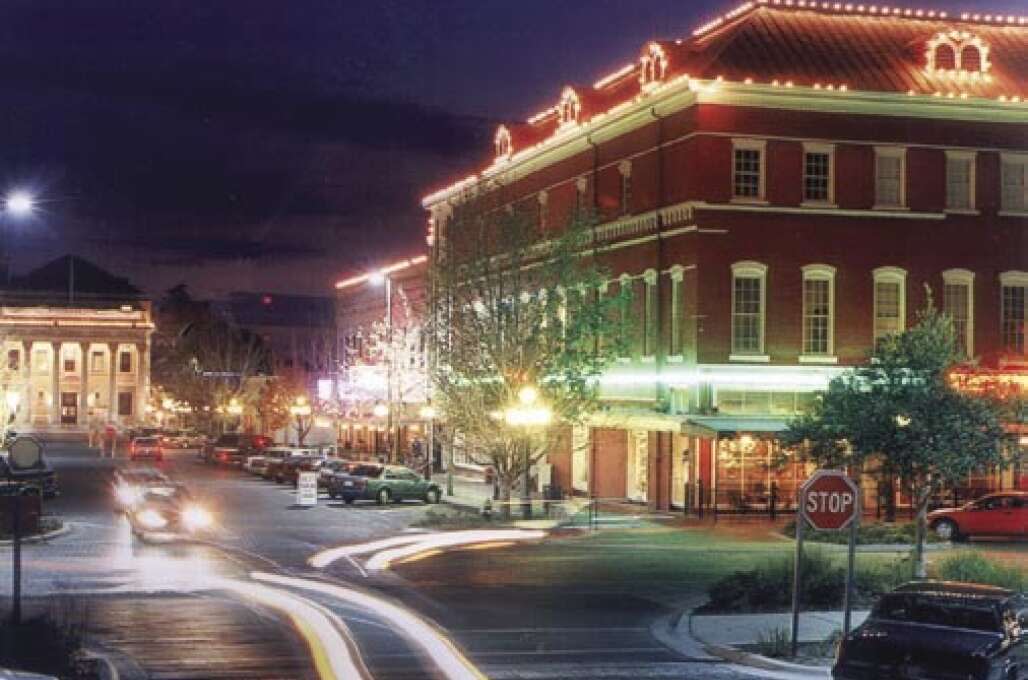 Attractions in Gainesville: Art & Culture
The Historic Thomas Center
The Historic Thomas Center – first a private home, then a hotel, now a museum and arts and culture center owned and operated by the city of Gainesville – is a beautifully restored Mediterranean Revival-style complex of buildings.

The original home was built in the 1900s by its namesake, an educator merchant and politician who was instrumental in bringing the University of Florida to Gainesville. Later, 94 hotel rooms were added and luminaries such as Helen Keller, Robert Frost, and new UF professors slept here.

Today the site is listed on the National Register of Historic Places and is known for its fine art galleries, 1920s period rooms, local history exhibits, performance space and banquet and meeting rooms.

Enveloping all the history: Lush colorful gardens with manicured lawns perfect for relaxing.

302 NE Sixth Avenue Gainesville. Open Monday through Friday 8 a.m. to 5 p.m.; Saturday 1 p.m. to 4 p.m; closed Sundays. No charge to visit. Call 352-393-8539 or visit www.GVLCulturalaffairs.org.
Hippodrome Theatre
Catch a play, a musical or a movie at this former federal building. The stately columns are impressive, as is the old-timey elevator to the second-floor main venue, where every seat puts you almost on stage with the actors.
The Hippodrome is at 25 SE 2nd Place in downtown Gainesville. Tickets are available at the Hippodrome Box Office by calling 352-375-HIPP and online at thehipp.org. Parking in downtown Gainesville is free after 6 p.m. Monday through Friday and all day Saturday and Sunday. There's also a parking garage a block away on 2nd Avenue, across from Dragonfly restaurant. The Hipp will validate your ticket, cutting the cost to $3. 
Samuel P. Harn Museum of Art
The Harn, which opened in 1990, contains 8,800 works of art in Asian, African, modern and photography collections plus traveling exhibitions. One of the largest university-affiliated art museums in the United States, the Harn Museum features 39,611 square feet of exhibition space, a 250-seat auditorium, study center, a museum, store, and a café with a calming water garden out back.

The Harn is at 3259 Hull Road on the corner of SW 34th Street and Hull Road on the west end of the University of Florida campus. Open Tuesday through Friday 11 a.m. to 5 p.m.; Saturday 10 a.m. to 5 p.m.; Sunday 1 p.m. to 5 p.m. Admission is free. Parking is free on weekends. Call 352-392-9826 or visit harn.ufl.edu.
Florida Museum of Natural History
There's oohs, ahs, and education here, perfect for young and older alike. Exhibits reveal Florida's ecological and cultural experiences, including fossils, specimen collections, plus displays on people and environments, waterways and wildlife – all the things a natural museum should have.

Located at 3215 Hull Road on the west end of the UF campus. Open Monday through Saturday 10 a.m. to 5 p.m.; Sundays and holidays 1 p.m. to 5 p.m. Call 352-846-2000 or visit www.flmnh.ufl.edu. No admission fee except for certain special temporary exhibits, but donations are appreciated.
Butterfly Rainforest
Hundreds of multi-hued butterflies flit throughout a four-story screened world with trails cascading waterfalls lush plants and trees. Be sure to check out the "Wall of Wings " an eye-arresting display of preserved and photographed butterflies and moths.

Located at 3215 Hull Road on the west end of the UF campus. Open Monday through Saturday 10 a.m. to 5 p.m.; Sunday 1 to 5 p.m. Cost is $10.50 for adults $6 for children age three to 12. Discounts are available for Florida residents seniors and college students with identification. All prices are subject to change so please call 352-846-2000 or visit www.floridamuseum.ufl.edu/exhibits/butterfly-rainforest/.
Also check out:
MUSIC
Downtown Concerts
The Bo Diddley Community Plaza sings out from 8 to 10 p.m. Friday nights from May through October with local and regional bands doing their stuff under the stars. It may be blues bluegrass rhythm and blues Brazilian. Who cares? It's all free.

It's family-friendly and you can even join the dancing in front of the stage.

Bring a chair or a blanket to spread on the lawn. Buy a glow stick hot dog or snow cone from a nearby vendor and enjoy.

Shows start at 8 p.m. at the park corner of SE First Street and E. University Avenue in downtown Gainesville. Find out more at www.gvlculturalaffairs.org.
DINING
Satchel's Pizza
If you visit Gainesville but don't eat at Satchel's, then some would say you haven't really visited Gainesville. Satchel's is eclectic. Different. OK, it's downright odd – but altogether delightful. And we're not even talking about the food yet, which is very good.

Aside from dining, there's a junk museum, a gift shop, a souvenir shop, a toy store, and a waiting lounge with beer wine and music. But that hardly captures what's here.

In the garden and greenhouses you can contemplate cactus mushrooms, herbs, bamboo – and drop off your own ailing plants to be nursed back to health. Players at the bocce ball court use beer for fuel. The fountain utilizes junk water and concrete; beyond that it's hard to describe – it just has to be seen. There's play areas for the kids. And a pine cone contest.

There's live music most nights usually from 6 to 9 p.m. Like the rest of the Satchel's experience, you never quite know what you'll get. Bohemian, hillbilly, high-energy bluegrass, tribal belly dancers, or a father-daughter duo doing swamp grass Americana.

For sale: Branded T-shirts Florida, snow globes, whirligigs, and mobiles from what is billed as the best collection anywhere, tiddlywinks, an ant farm, finger puppets, facial hair kits, wind-up metal toys and a bike plane.

The junk museum has probably the world's best selections of yarn, art, fruit baskets, knobs, pet tags, chalk ware, coconut heads and fake greenery.

"Much" and "more" are not words easily overused at Satchel's. There's even a 1965 Ford van out front where you can eat your pizza.

Ah yes, the pizza. It's king here, some of the best around and lots of ways to order it. Sausage with basil is a good place to start. There's also the Satch Salad with a garden of ingredients and a secret dressing; calzones and for dessert cannolis. Wash it all down with a soda or a selection from a better-than-average list of white and red wines.

This is a true Gainesville experience not to be missed. Get there early and be patient; Satchel's draws a big crowd.

Satchel's is at 1800 NE 23rd Avenue Gainesville. Open Tuesday through Saturday 10 a.m. 'til 11 p.m. Cash only but there's an ATM on premises and the $1.50 fee is donated to local charities. Call 352-335-7272 or visit (and this is worth some study in itself) www.satchelspizza.com.
Billed as the best wine bar in Gainesville, Downtown Wine and Cheese offers fine wines by the glass or by the bottle, small plates and cheeseboards, with tastings every Thursday night. It's perfect for an intimate date night or a celebration with friends. dwacgainesvilleshop.com/
Also try: